How to Manage Effectively during a Company Crisis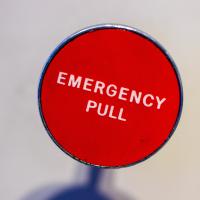 At a company I once worked for, hundreds of bills ready to mail to customers were found scattered around a public park in the center of town. The local newspaper found the situation front-page-worthy, complete with photos. The situation was a public relations disaster, but was it a crisis? To company executives, definitely. To executives of other companies who were facing a risk of going out of business altogether, perhaps not.
Regardless of the size and scope of a crisis, any hope of resolving it quickly is made worse by something that often happens: when those in charge handle the situation poorly, such as going into denial, blaming others, or trying to resolve the situation privately and secretly. Advice for how to manage a crisis is useless if it's ignored when it's most needed. The starting point is to acknowledge the situation. Until the responsible parties own up to the problem, they can make little progress in rectifying the situation or regaining trust.
Communication, often mishandled in the best of circumstances, is critical during a crisis. Every business, big and small, should have a crisis communication plan that addresses who's in charge, what the strategy is, and the credible people charged with communicating to internal and external parties. Periodic updates let people know that you're working on the situation. People who hear nothing for a sustained period tend to imagine the worst, so regular updates are important, even if there's no new information to present.
Before communicating with those outside the organization, it's wise to talk to employees. That way, they'll learn what's actually transpiring before they hear distortions from social media and outside parties. Those within the organization need to know when, what, and how they can or should communicate with others. Retaining employee trust during a crisis is essential in moving forward.
In resolving a crisis, it's important to bring all appropriate resources to bear—and to do so quickly, particularly if the organization's finances or reputation are at stake. It's usually best to wait until things settle down to analyze what went wrong and what needs to happen to avoid a recurrence.
Of course, you can't anticipate every possible kind of crisis. Bills strewn about a public park would never have made a list of problems to guard against at the company I worked at. Still, faced with bad news, many leaders try to convince themselves and others that things aren't really so bad. In doing so, they fail to take strong and speedy action to resolve matters. This seems like an important lesson to keep in mind.
Up Next