How to Achieve Better Internal Communication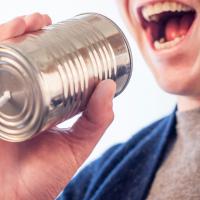 Communication is especially important in the workplace. Ineffective communication can be deadly to a business, as it decreases productivity and leads to hostile relationships.
However, our methods of communicating are often on "autopilot." Being more mindful of when and how we communicate can eliminate problems and strengthen internal relationships.
There are several things that can be improved or implemented to increase trust and effective communication on any business team.
First, it is important to have a clear goal established before you communicate anything. Once you have that specific purpose defined, make it known as you are speaking and lay out straightforward expectations for the listeners.
Employees and employers also must be mindful of who they are communicating with before doing so. Communication styles should change depending on the audience. Communicating with a coworker will pan out much differently from a conversation with the board director. Be cognizant of who the subject is and what their needs are.
Being clear in communication is just as important. Don't use flowery language or introduce distractions while presenting a goal or question; be clear and succinct in what it is you are communicating.
While being clear is crucial, being engaging is what will keep the subject listening. Be sure that your communication is interesting and contains emotion as well as logic. This openness about your feelings and reasonings behind decisions will showcase honesty and increase respect between you and your subject.
Lastly, recognizing that communication is not one-sided but rather a two-way street will be the ultimate deciding factor of effective communication. For example, just because a manager has said something to an employee does not mean that employee completely understands what was said. Speaking and communicating with are two entirely different things.
Effective communication is allowing a dialogue to open following the completion of your part of the conversation. Letting the recipient respond and ask questions will begin a cycle of feedback, and this dialogue will shape the effectiveness of the communication.
Businesses should focus on or implement the following measures:
Outline policies: Make policies and protocol easily understood. Employees want to know why things are done the way they're done 
Clarify the mission: Make the company mission and values clear. Employees want to know the reason behind the work they do
Get to know employees: Managers should get to know their employees, making clear that they are willing to listen and be more connected
Maintain open dialogue: Managers should keep employees up to date on changes and future plans, allowing them to be involved in decisions and discussions about the business
Encourage sharing: Allow employees a space to share what they're learning, whether through presentations, meetups, or a company wiki
Use communication tools: Use online communication and project management tools to keep teams organized and in touch with one another when face-to-face conversation isn't available
Plan out-of-office events: Hosting events and parties outside the office is a great way for employers to increase employee engagement and build stronger connections
Up Next