How to Make the Most of Your Conference Experience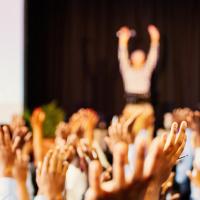 You researched the conference you want to attend and gained approval from your boss to go—now what? These tips will ensure you make the most of your conference experience.
Plan Your Schedule
Review the conference schedule and narrow down the sessions you'd like to attend. Sessions may become full, so having a backup is a good idea. If the conference has an app or a customizable interface, take advantage of these tools to get yourself organized.
Get Feedback from Your Team
After you've chosen your desired sessions, have your boss review your selections. This will ensure you are making the most out of your company's investment. You will be sharing the knowledge you gained with your team, so make sure you are choosing sessions everyone could benefit from. Additionally, review the event vendors beforehand and see if it would be of interest to the team for you to set up a meeting with a specific vendor.
Start Networking 
Find out if the conference has a dedicated account on Twitter, LinkedIn, Facebook, or Slack. These social platforms are a great way to see who else is attending. If you're attending solo, introduce yourself and make plans to meet up at the event. You can also find helpful tips, advice, and FAQs on these platforms as well.
Form a Plan for Being OOO
Get a headstart on your work before you leave for the conference so you're not stressing about your workload at the event. Notify team members in advance so they are aware of your absence. Plan ahead and get your dedicated tasks done before the conference so you're not feeling anxious when you should be learning and networking.
Prepare to Take Notes
Think about how you learn best and decide if you want to bring a laptop or notebook to take notes during the event. You'll be sharing this information with your team and management, so make sure you take thoughtful notes. Many conferences will have pens and pads of paper, but if you prefer to type, you don't want to regret not having brought your laptop once you are in the conference room and it's too late.
Don't Multitask
Don't answer emails or texts during sessions. Multitasking hinders your ability to absorb the information as well as your efficiency. You may also miss something important during the session if you're on your phone. You'll learn much more if you're present. Emergencies come up, but do your best to plan ahead for taking care of your work.
Represent Your Company Well 
Check the dress code for the conference so you make a good impression. If in doubt, dress business professional. Bring your business cards so you can network during the event. It's also important to have a good attitude and willingness to learn.
Now you're ready to make the most of your conference experience!
Up Next