China Builds World's Fastest Supercomputer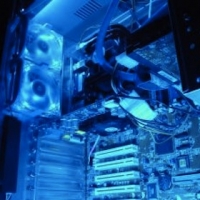 China has overtaken the United States as home to the world's fastest supercomputer, according to the results of the newest Top500 List. This list of top supercomputers is put together from representatives of the University of Mannheim, Germany; the Lawrence Berkeley National Laboratory; and the University of Tennessee, Knoxville.
The new machine, dubbed Tianhe-2 (Milky Way-2), was created by China's National University of Defense Technology and is expected to be up and running by the end of this year at the National Supercomputer Center in Guangzho, China.
According to the announcement, "Tianhe-2 has 16,000 nodes, each with two Intel Xeon IvyBridge processors and three Xeon Phi processors for a combined total of 3,120,000 computing cores."
Although the computer appears to be running on US-made Intel processors, the BBC mentions that other parts, including networks devices and central processing units, were built in-house in China.
The supercomputer's OS is based on Linux and is known as the Kylin operating system. The BBC notes that it "was designed by the university to be a high-security option for users in government, defense, energy, aerospace, and other critical industries."
ComputerWorld recently interviewed Peter Beckman, a computer scientist at the US Department of Energy's Argonne National Laboratory, to hear his thoughts on Tianhe-2 and what the news means to the US. Beckman notes the significance of China's being less reliant on other countries' technology and the fact that they "are taking their own approach on how to do parallelism. The two items that make the supercomputer super, the software and the interconnect, they are growing at home."
From ComputerWorld:
Are they sharing any of this as open source?
At this point it's pretty hard to see it. The software that the community is using, none of it is coming from China. It's hard to find, in some sense, on the Web. If you look for some of the pieces like the Kylin (Linux) operating system, it's not easy to find a community of people where this is being used or shared. It's certainly not prevalent yet. Maybe that's to come. I don't want, in some sense, to sell them short. It's very hard to document code in English if you're really writing essentially in Chinese. There may be language issues preventing them from doing this.
For a more in-depth look at China's new supertoy, check out this interview with Bob Davis, the Wall Street Journal's senior editor in China, who explains the importance of supercomputers for data-heavy tasks like building nuclear weapons, exploring space, and tracking climate change.
Davis believes US scientists will be trying to get more Congress-backed funding for supercomputing now that the US is no longer number one.
Up Next