The Attack of the Copyright Enforcement Robots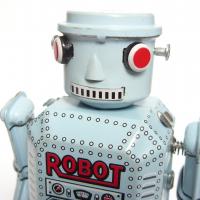 The Internet is an incomprehensibly large store of shared information. In some cases, there are processes in place to prevent re-sharing.
Students at universities and some schools typically have to submit their work to online plagiarism checkers before they submit for assessment. Apparently this is not the case for journalists, who regularly are caught copying. As technology has advanced, the checking has evolved from checking text to also checking video.
Here is a testing challenge for you. Imagine you are planning for system testing for a copyright infringement video filter. You want to do some testing related to movies. Can you think of some cases of allowable exceptions for video material—false positives that would be flagged as illegal but are examples of acceptable use? Think about it for a while then continue reading.
One of the most obvious cases of reuse of movie material is "making of" documentaries typically included with packaged movie products. Retrospectives on actors, directors, themes, technology, etc., could also reuse movie clips legitimately. An annual example is the awards show that shows clips from nominated movies. These examples are all allowable exemptions. This could be done proactively in advance or overridden as required during the transmission.
Unfortunately, a recent event demonstrated a classic case of how not to filter. During a live streaming of the Hugo Awards at Worldcon, Neil Gaiman was making an acceptance speech for a writer's award for a "Doctor Who" episode when transmission was halted with the message "Worldcon banned due to copyright infringement."
The use of the material was legal and displayed in the credits, but it was invisible to the copyright infringement filters. So why was the video blocked at all if any legal opinion (or even common sense) would say it was an allowable exemption?
The 1998 Digital Millennium Copyright Act (DMCA) allowed hosting sites to avoid liability for posting copyrighted material until someone presents a takedown notice. That's when common sense vanishes. The material has to be blocked immediately—without evaluating the claim for reasonableness or accuracy or if it is allowed under fair use. If a site doesn't abide by the notice, it also inherits the copyright liability.
While this approach may have been sensible a few years ago (even though there was takedown notice abuse), it is nonsensical as the policing is turned over to the copyright infringement filters and automated takedown notices, with no awareness of the exemptions obtained legally.
The craziest example is a topic I wrote about recently—the arrival of the Curiosity rover on Mars. Visitors to the NASA YouTube channel found a NASA Mars video was blocked with the message "This video contains content from Scripps Local News, who has blocked it on copyright grounds."
The Scripps News broadcast would have ended with a written acknowledgement of copyrights for NASA and other owners of video, then claimed copyright of the rest. Once the show was posted online, this simplified to complete ownership. Clearly this is another case of needing metadata, perhaps a timeline of the show and who owns the relevant copyrights across it.
The situation is only getting worse. As NASA's Bob Jacobs says, "We spend too much time going through the administrative process to clear videos slapped with needless copyright claims"—even when NASA has a strong obvious case.
What hope is there for more complex scenarios? Maybe we need to investigate alternate ways to resolve these issues. Whatever the outcome, this all leads to some interesting thinking for test scenarios for copyright exemptions!
Up Next