3D Printed Airway Tube Saves Baby's Life in Groundbreaking Procedure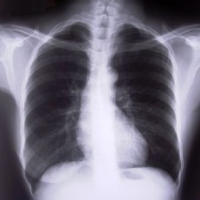 Six-week-old Kaiba Gionfriddo suddenly stopped breathing and turned blue, and his father had to perform CPR to revive him. It soon happened again, and after needing daily resuscitation, the baby wound up on a breathing machine at Akron Children's Hospital in Ohio. His diagnosis: tracheobronchomalacia, a rare condition where airway walls are so weak, they can randomly collapse.
Hospital staff told Kaiba's parents the child's chances of survival were low. But then one of the doctors mentioned researchers at the University of Michigan who were experimenting with creating airway splints using a 3D printer. Even though the risky procedure had only ever been performed on animals, Kaiba's parents jumped at the chance to save their son's life, and he was airlifted to C.S. Mott Children's Hospital at the University of Michigan.
Associate professor of pediatric otolaryngology Dr. Glenn Green and his colleague Scott Hollister, a biomedical engineer and associate professor of surgery, got emergency permission from the Food and Drug Administration for the procedure. They took a CT scan of Kaiba's trachea, and then, like something out of a science-fiction novel, they used a computer design model to laser-print a 3D splint.
As soon as the tiny splint was sewn around the airway, it expanded and the baby's lungs started inflating. Three weeks later, Kaiba was taken off ventilator support. Now, at 20 months, Kaiba hasn't had any trouble breathing since.
"It's magical to me," Green said. "We're talking about taking dust and using it to build body parts."
Green and Hollister had been working for years toward a clinical trial to test a tracheal splint made from polycaprolactone, a biopolymer used in 3D printing. It starts off as a powder, and the printer's laser beam melts it into small, intricate structures that are unique to patients' needs and, after time, will disintegrate.
"The material we used is a nice choice for this," Hollister said. "It takes about two to three years for the trachea to remodel and grow into a healthy state, and that's about how long this material will take to dissolve into (Kaiba's) body."
Green said this is the first time this extraordinary procedure has been performed anywhere in the world, but it's a safe bet it won't be the last. While 3D printing technology has so far been used to make jewelry, phone cases, and—the subject of much controversy—a firearm, humans are also striving to use this power for good.
The day is not far off when doctors and scientists will be able to use a 3D printer to create new organs and tissues, or even humane and sustainable meat, leather, and other animal products.
Up Next