New Weather Supercomputers Ready for 2013 Hurricane Season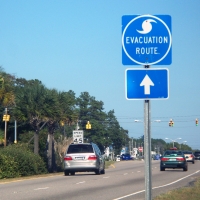 After Hurricane Sandy bore down on the East Coast of the United States during late October 2012, the devastation and loss of life the super storm left in its wake made it the second-costliest on record (after 2005's Hurricane Katrina), resulting in the deaths of more than 100 people and causing more than $50 billion in damages. 
Those who experienced Sandy firsthand last year—and its effects were felt in 24 states—are understandably less than thrilled to learn that this year's Atlantic hurricane season outlook issued by the National Oceanic and Atmospheric Administration (NOAA) calls for 2013 again to be "an active to extremely active season." The time for tropical storms is upon us—hurricane season began in the Atlantic on June 1 and in the Eastern Pacific on May 15, with both seasons ending November 30.
There's one bright spot however. On July 25, 2013, the National Weather Service (NWS), which is part of NOAA, flipped the switch on two new weather supercomputers that are running an upgraded hurricane research and forecasting model designed to more accurately project storm intensity and structure. 
As reported by Computerworld, the two clone computing systems, one in Reston and one in Orlando, are each 213 teraflop systems running a Linux operating system on Intel processors. The new Hurricane Weather Research and Forecasting model that's now operational and running "is 15% more accurate in day five of a forecast both for forecast track and intensity." 
The NWS and NOAA took criticism last fall for not doing a better job of predicting and communicating storm surge forecasts. Many media outlets, such as The New York Times, reported that nursing homes and health care facilities were not ordered to evacuate residents in anticipation of Hurricane Sandy. 
While the immediate improvements to the NWS model "represent a big jump in computing power from their predecessors," The Washington Post explains that the best of the NWS' supercomputing power is yet to come. "By the summer of 2015, the NWS' supercomputing power is projected to be 1,950 teraflops."
Up Next