Apple and Google Enter the Connected Car Market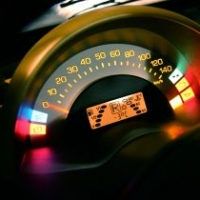 A new battle has begun in which the combatants are familiar and the prize is your car's dashboard. In 2014 Google and Apple have decided to bring the fight to Microsoft with a major push in the area of connected cars.
Microsoft first recognized this potential market in 1998 and created the AutoPC with Clarion. This evolved into a more robust offering using Windows Embedded. Unfortunately for Microsoft, this project gained little traction among automakers, and their largest customer Ford announced last month that it was dropping Microsoft. This is particularly bad timing since Apple and Google have decided to make a major smart car push in 2014.
Apple already has a significant presence in this market; 95 percent of the cars sold already have integrated music and control for some type of iOS device. The company hopes to leverage this footprint with deeper integration through its CarPlay product.
Apple is not actually building the devices that will run on your dash nor is it breaking its business model by licensing iOS. The devices will actually display your iPhone desktop via a "lighting cable." Although this is a very flexible model for delivering intelligence to your dash, it does lack full integration with the car. Apple is constrained by its desire to control all aspects of the user experience.
Google's plan is much different. Google's car initiative is modeled after its highly successful move into smart phones with Android. Google has formed the Open Auto Alliance with leaders in the automotive industry in order to build a common connected car platform. Of course, this platform will be based on the Android OS.  
Google hopes to extend Android's dominance to the automobile and to attract automakers with the same low-cost, high flexibility that captured a majority of the smart phone market. This customization will allow for far greater integration with your car than Apple CarPlay can provide but also will lead to further fragmentation of the Android OS. These differences present stark choices for auto makers.
Google and Apple are already divvying up the car industry. Audi, General Motors, Honda, and Hyundai have committed to Google's Open Auto Alliance. Apple is reportedly working with Ferrari, Mercedes-Benz, Volvo, BMW, Ford, Honda, Hyundai, Jaguar, Land Rover, Kia, Mitsubishi, Nissan, Peugeot, Citroën, Subaru, Suzuki, and Toyota to integrate Apple's CarPlay.
For Microsoft, this shift has to be maddening since it was the first big player in the game more than fifteen years ago, but it is their failure in the mobile market that continues to haunt the company. Google and Apple have now extended their battle into a completely new arena, and it is the end-user who will again be the beneficiary.
At least until Cyberdyne Systems releases its version of the smart car.
Up Next