The Maker Movement Moves to the White House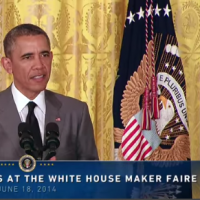 Is the United States still a nation of "makers" instead of merely passive consumers? The White House likes to think so. Proclaiming June 18 a "National Day of Making," the White House hosted its first Maker Faire and, in a way, authenticated the growing Maker Movement with the government's stamp of approval.
What do makers do? They love to make stuff. Leonardo DaVinci, Benjamin Franklin, Alexander Graham Bell, the Wright brothers, along with Steve Wozniak, Steve Jobs, and Sir Tim Berners-Lee all fit this mold.  
What is a Maker Faire? It's an event where do-it-yourself (DIY) and do-it-with-others (DIWO) projects are displayed. The concept of celebrating tech-influenced projects and the DIY mindset, along with Maker Faires, has been popularized by Make magazine.
At the inaugural White House Maker Faire, there were more than thirty pretty creative projects, including a 128-square-foot portable tiny house, a 3D pancake printer that printed the first 3D presidential pancake, a giant red weather balloon, a banana piano, and, of course, a robotic giraffe.
Creator Lindsay Lawlor delighted President Obama with Russell, the 17-foot-tall, 2,200-lb robotic giraffe, who roamed the South Lawn of the White House. According to the announcement, Russell "walks" on wheels and is powered by a 12-horsepower hybrid fuel-engine motor. Lindsay designed the giraffe to play music, and it can hold up to thirty people in its carriage.
However, President Obama did seem to find the spelling of "Faire" peculiar. "Is there jousting?" he wanted to know. "This is America. We don't have 'e's at the end of Faire," he observed. "Today's DIY is tomorrow's Made in America."
If you're intrigued, find out more about the Electric Giraffe. Or, here's another project from Laughing Squid on how to make LED sneakers that light up as you walk.
Although a robotic giraffe is beyond my skill set, I did make my own movable compost bin with a drill and a plastic garbage can. How about you?
Up Next