What We Gain from Knowledge Sharing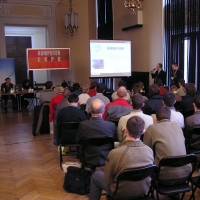 It's a common belief that the best way to learn is to teach others. In this age of distributed workplaces, global communities, and twenty-four-hour-a-day accessibility (thank you, smartphones), expanding our own knowledge by educating others has never been easier.
While physically traveling to industry conferences is professionally advantageous and a great way to gain and share knowledge through networking, for those who can't take the time away from the office or whose budgets don't permit travel, the Internet provides the perfect environment for both teaching and learning. 
Whether you are looking to share been-there-done-that advice with and from your peers, you are new to the software industry and need a mentor, or you seek to build a reputation in your field, there are plenty of ways and reasons to learn, connect, and share knowledge. 
As social/open business evangelist Luis Suarez frames knowledge sharing:
One of the most profound key accelerators for one's learning is that one of sharing your knowledge out there, in the open, and the more, the better, allowing others to benefit from it, contrasting it, challenging it, reframing it, instead of seeing it stagnate, inside your brain, because you never give it an opportunity to let it grow through that enriching experience of knowledge exchanges with other knowledge workers.
Are you ready to embrace learning by teaching? Get started by joining the TechWell community sites' Q&A boards. Whether your interest and expertise lie with software testing, project and people management, agile practices, DevOps, configuration management, or ALM, the Q&A boards provide access to thousands of enthusiasts, practitioners, and thought leaders who can assist you with your specific issue or are in need of your advice to help them with theirs. Ask questions, find solutions, and share your ideas and experiences on the AgileConnection, CMCrossroads, and StickyMinds Q&A boards.
Up Next