Thinking about Going Back to School? Georgia Tech Offers Online MS CS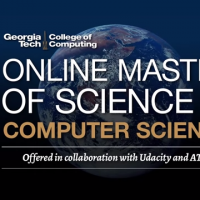 Is going back to college for an advanced degree in computer science worth it? For working professionals weighing the pros and cons—potential career payback versus a hefty financial commitment, along with spending precious weekends or weeknights back in a classroom—online learning can be a viable option.
Yes, online learning for a master's degree in computer science. And not from one of the lesser-ranked schools, but from Georgia Tech's College of Computing, currently ranked #9 in the 2014 graduate school rankings by US News & World Report.
The Georgia Institute of Technology's College of Computing rolled out the first accredited Online Master of Science in Computer Science (OMS CS) program in spring of 2014. Offered in cooperation with AT&T and courseware company Udacity, students can earn a degree completely through the massive open online courses (MOOCs) delivery format. As for initial cost, total tuition for the program is expected to be less than $7,000.
A pilot program of approximately 375 students recruited from AT&T and Georgia Tech corporate affiliates launched in January 2014, and the university plans to gradually scale the program. According to Georgia Tech's website, 93 percent of the original students said they would recommend the program.
If you're interested, the next round of open applications begins September 8 and ends October 26 for matriculation in the spring 2015 semester. For details on how to apply, visit the OMS CS Program Information page or contact [email protected] for more information.
And if you're not ready to make a commitment to the OMS CS degree program, there are five individual courses offered as non-credit options through the Georgia Tech Professional Education program that may qualify for CEUs.
Ready to become a Yellow Jacket? Here's a video preview of the CS 6250: Computer Networks course taught by professor Nick Feamster.
Up Next