NASA FINDER Technology Discovers Life in Nepal Disaster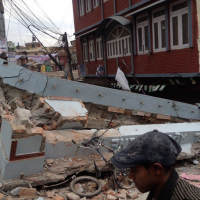 To add to the list of cool technology that's come from NASA's research, here's a big one—a search and rescue device that detected the heartbeat of four people trapped beneath 10 feet of rubble in the Nepal earthquake disaster so rescuers could reach them.
Finding survivors quickly in a disaster saves more lives, and a heartbeat is the only way to tell if someone is still alive. The suitcase-sized device is called FINDER (Finding Individuals for Disaster and Emergency Response). It uses  microwave-radar technology designed to identify a human heartbeat beneath 30 feet of crushed bricks and mud or behind 20 feet of concrete, even from a distance of 100 feet in open spaces. Depending on the materials, FINDER can also provide first responders with an approximate location within about 5 feet of where victims are trapped.
Developed in partnership by NASA's Jet Propulsion Laboratory in Pasadena, California and the Department of Homeland Security's Science and Technology Directorate, the technology was originally announced back in the fall of 2013 with the intent that it could be deployed in 2014.
In the announcement from the U.S. Department of Homeland Security Science and Technology Directorate, two FINDER prototypes were brought in to help with rescue efforts following the April 25, 2015 earthquake in Nepal. According to the announcement, four men had been trapped beneath a collapsed textile factory and another building for days in the Nepalese village of Chautara. Using FINDER, rescue teams detected two separate heartbeats beneath the two different structures that had collapsed. Workers were able to save the men.
"The true test of any technology is how well it works in a real-life operational setting," said DHS Under Secretary for Science and Technology Dr. Reginald Brothers. "Of course, no one wants disasters to occur, but tools like this are designed to help when our worst nightmares do happen. I am proud that we were able to provide the tools to help rescue these four men."
Kudos to everyone involved—from those in the lab to the first responders in Nepal!
Up Next