Tips and Tools for Successfully Working Remotely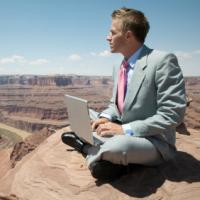 Agile software development places a high value on individuals and interactions. Teams often prefer collocation over distribution, and employers tend to, also—casual encounters are shown to improve innovation, productivity, and collaboration.
But sometimes, remote work needs to happen. It's likely that at some point you will need to collaborate with people in another city or country. Understanding how to work better remotely is valuable, especially if your company doesn't have an established policy about it.
Collaboration technology continues to improve. Tools like Innovation Games make it easier for both distributed and collocated coworkers to perform retrospectives and brainstorming. And thanks to a mix of technology and conventions, Automattic, the maker of WordPress, is successful with a fully distributed team. Their approach uses a variety of tools including Slack, wikis, and video conferencing to provide channels for everyone to communicate.
Although effective tools are essential, the primary factor for success is that everyone acknowledges the value of quality communication and understands what the right format and frequency of communication is. Tools can help you do the right thing, but you need to know what your goal is. And even then, there is no substitute for face-to-face interactions. Many successful remote teams budget for travel so that coworkers can occasionally meet in person.
If you are considering joining a remote team, there are many factors to consider about working remotely first. You should ask about how the roles of remote workers relate to the roles on any local ones. It's also a good idea to find out the company's guidelines about how the organization should communicate, such as using email for as much as possible, so that everyone, even remote and time-shifted employees, can be effective and feel part of the larger team.
Remote work offers advantages for team members and the organizations they work for. Employees can benefit from the better work-life balance that remote work offers, and they have the opportunity to create a personal work environment they can be productive in. And the organizations get the change to hire the best people for any positions, regardless of where they live. But for remote work to be successful at any level, your team needs to be willing to work toward a culture that supports communication and flexibility.
Up Next