5 Strategies to Get Approval to Attend a Conference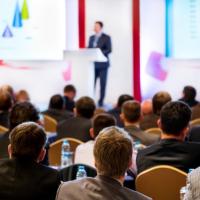 My friend Nancy was dismayed to learn her request to attend a conference three months off was declined. But she shouldn't have been surprised: Waiting until the last minute to submit a request is rarely a good idea, and in some organizations, three months in advance is the last minute.
To avoid Nancy's disappointment, start checking right now on events you might want to attend next year. But remember that your organization isn't in business to send you to trade shows, seminars, and fun-in-the-sun conferences. There has to be a solid business reason for you to attend, and you'll improve the odds of getting the OK to go if you can make a comprehensive justification for going. Here are five things to focus on.
1. Consider how your attendance at the event will improve your on-the-job performance. What will you, your team, or your organization be able to do faster, smarter, or more effectively as a result of your attending? Try to express this value in terms of the dollars you'll save the organization or the productivity or other gains you'll achieve as a result of attending.
2. Evaluate the impact of your absence. Even though it's only for a few days, your absence could lead to resentment from your coworkers if you leave them in the lurch. Figure out what will slip in your absence, or, better, what you'll do to avoid slipping. What arrangements will you make to cover your work?
3. Identify all relevant costs, including travel, hotel, meals, and registration fees. Seek ways to keep costs down, such as by registering early or taking flights that aren't the most convenient. Point out how the dollar value of the benefits of attending offsets the costs.
4. Describe how you plan to get the most out of the conference and what you'll write up or present afterward to benefit your team or organization. This can be an important selling point: The more employees who can benefit from your participation in the event, the lower the cost-per-person basis and the greater the benefit.
5. Put your request in writing. In describing the event, include the above points as well as relevant brochures, articles, and links to websites. Emphasize the cutoff date for registering and the date after which airfare, registration, or others fees increase. Ask for a response by a specific date that precedes the cutoff date.
Good luck getting the OK to go! But if your request is declined, try to find out why. If your manager has objections, you may be able to reach a compromise. If the reasons are beyond your control, find out if the material you submitted was acceptable and whether you can use the same format in the future. Then try again the next time around.
Up Next