4 Tips for Writing an Awesome Developer Resume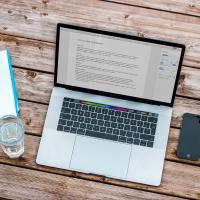 When you're hunting for jobs, one of the most time-consuming things you have to do is create a resume. Especially as a developer, you often fall into one of two categories: You either have too much experience to put on one page, or you have too little.
However, just as with coding, writing an effective resume is simply a matter of skill. Here are four tips for writing a great developer resume.
1. Focus on your specific responsibilities and achievements
You may have a lot of previous experience, especially if you have worked as a freelance developer. Wanting to list them all isn't inherently wrong, but you should bear in mind that hiring managers don't have that much time. You should focus more on the jobs that really show off your skills.
First, pick a few relevant experiences you've had—some things most related to the job you are applying to. Then, briefly indicate where you were working. It's up to you whether you'd like to put your title; if you were a lead, you may want to indicate that, but otherwise, you can leave this out—titles often don't matter much in the developer world. You should dedicate more space to describing your responsibilities and achievements in that job.
2. Showcase your side projects
Displaying your side jobs is a good opportunity for all those developers who don't have any relevant experience. If you are fresh out of school or previously worked in another industry, before you start applying for jobs, take on a few projects—whether they are paid or not—so you have something to show on your resume. This section is good for seasoned developers as well because you're able to show more of your skills if you've worked on a broad range of projects. Remember to include relevant links.
3. Don't just list your skills
Listing your technical and soft skills on a resume has been overrated for a while now. You can state as many skills as you want, but your future employers will want proof of that. It's better to just list projects and links that show off your skills. Also, don't rate your skills; this is a practice best left in the past. If you really want to show that you know Go better than Python, for instance, you can use words like "strong" and "knowledgeable" instead of merely rating them as "good" or "expert" or using progress bars.
4. Leave out the personal information
While it used to be trendy to list all sorts of personal details on your resume, that's no longer the case. Your hobbies, interests, and what clubs you belong to have nothing to do with being a good developer, so leave those out. However, indicating that you speak another language, do volunteer work, or belonged to a fraternity or sorority can help give you an edge over other candidates.
Writing a resume can be tedious and confusing, but if you follow these tips, you'll convey all the right information.
Up Next