Stay in School: Lifelong Creative Learning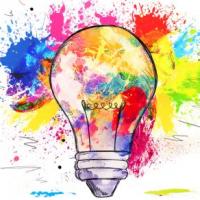 In our always-connected world, continuous learning is a given. Ongoing professional development is imperative in technology careers, yet learning something new in other fields is also good for your career, your health, and your life.
Innovation is often inspired by the arts—and vice versa. Did you make paper snowflakes as a child? Inspiration for research work on stretchable electronic devices led by Shenqiang Ren, Professor of Mechanical Engineering at University at Buffalo, The State University of New York, comes from the cut-paper art called kirigami, a lesser-known cousin of origami. 
And after all, Leonardo da Vinci's insatiable curiosity about human anatomy and the nerves and muscles of a smile gave us the Mona Lisa. So whether it's for professional or personal reasons, stay in school. Here are a few suggestions.
Here's some advice worth repeating from guitarist and singer Clarence "Gatemouth" Brown, who The New York Times wrote, "spent his career fighting purism by synthesizing old blues, country, jazz, Cajun and R&B styles.":
"Stickin' with what you know is one thing. But don't stick with it the rest of your life. Go to something else. Then add that to your repertoire. That's how you develop style."
Up Next