Real-Time Bird Migration Algorithms for Live Tweeting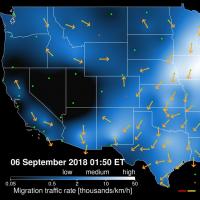 Here are some upcoming live-tweeting events that are actually worthwhile. New maps on the Cornell Lab of Ornithology's BirdCast website let you track migratory birds in near real time, as well as forecast avian migration up to three days ahead.
An algorithm developed by scientists with the Cornell Lab of Ornithology and the University of Oxford, England processes the most recent North American Mesoscale weather surveillance radar data, along with more than 20 years of bird migration data, to produce maps that predict volume and flight direction of migrating birds in the U.S. during spring and fall.
Why is the when, where, and how far will birds migrate important?
It's in the fall when millions of migrating songbirds from the Northeastern United States, the Great Lakes region, and into Canada begin to head south, undertaking a semiannual journey that grows more difficult each year due to human-made hazards. According to the National Audubon Society, "Now tall towers of glass and steel protrude into the sky; houses, roads, and concrete cover the once virgin landscape; and at night, the world can look like a never-ending Lite Brite."
Knowing when and where a large pulse of migrating birds will move through an area could provide valuable data for conservation purposes, according to the BirdCast announcement. For example, forecasts could signal a need for temporary shutdowns of wind turbines or large sources of light pollution along the migration route—actions that could significantly reduce bird mortality.
Fall and spring migration may be the best time to be a bird watcher, but since many migrating birds will likely be flying at night, it helps to plan ahead. Here's a live migration map and a how-to online guide on using the migration forecast tools.
The BirdCast project, a collaboration among Cornell, University of Massachusetts Amherst, and Oregon State University, was funded by grants from the National Science Foundation and Leon Levy Foundation.
Up Next