5 Areas to Focus On for a Great Mobile App UX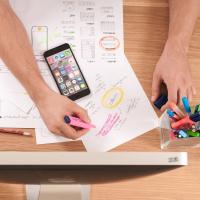 During mobile app development, the user experience should be at the forefront of your creative process. For an application to become popular among users, you have to think about the users and the various ways they'll interact with your application.
Here are five areas to pay particular attention to when designing for optimum UX.
1. Navigation
Mobile app development is a painstaking process because many factors must be taken into account. However, even the most complex application should remain simple for the user. Implement simple and intuitive navigation, and add a search panel. Many users will uninstall the application if they cannot immediately understand how it works, so searchable navigation can help them figure it out.
2. Layout and design
Mobile app user experience is significantly improved thanks to user-friendly design. Focus on three things: minimalism, predictability, and page-loading speed. All important options should be visible and easy to find with a quick overview. And an application that loads quickly has a better chance of success; check that all elements load in less than five seconds.
3. Registration and login form
Many users will bail on an app if the registration takes too long. Experiment with the registration form: Let people register with a username, email, or phone number. Add the ability to register through social media. The simpler the registration and login procedure, the better for the app and users. Of course, you need to collect user data to improve user experience, but having these users is more important.
4. Customer support and tutorials
In offline stores and service centers, a visitor is met by a manager who is ready to help resolve any issue. Provide your users with the same opportunity in the application. Live chat support or a FAQ section is an excellent analog of a consultant. Another way to improve the user experience for the mobile app is with a tutorial that opens immediately when the application is installed. You can use it to show the most important and convenient features and to briefly talks about the benefits of the application. Give users the opportunity to skip this step and return to it if necessary.
5. Interactivity and visuality
The visual appeal of the application is also important. Attract user attention and add interactivity with images. The main goal of the user experience designer, in this case, is to evoke bright, positive emotions from interaction with the application. Use banners and animations with caution, as the speed and simplicity of the application are still more important.Explore your target audience to better understand their needs.
Creating a positive UX is one of the main tasks in developing a mobile application. Focus on these five areas—either in your already developed application or in those that are under development—to bring your users the best experience.
Up Next