Information Technology Workers and Stereotypes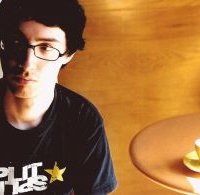 After reading The Wall Street Journal online article called "Profile of an IT Worker," which addressed the issue of stereotyping and IT professionals, I thought it was time to dig deeper into this topic.
Is the stereotype true that IT professionals are nerds, geeks, and pocket-protector-wearing buffoons as sometimes portrayed in the media? The Wall Street Journal article looks at computer support specialists and network administrators, and the graph below takes a look at the demographics of those two groups. The article's conclusion is "Forget the stereotype. For one thing, most of them don't have college degrees in computer science, technology, engineering or math."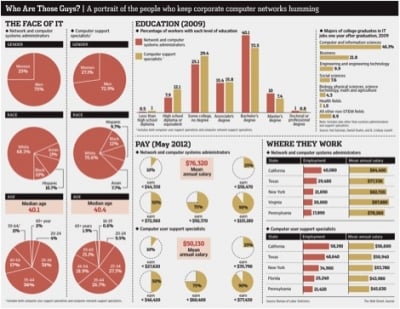 Let's look further at stereotypes past and present in our field. First, let's go back to 2009 to a sciencedaily.com article that addressed the geek and nerd stereotype head on. The article can be summed up in one statement: Even though technology permeates our society, the "uneasiness of computer technology and its influence" in our daily lives feeds the stereotype myth.
Fast forward four years to the present. Sciencedaily.com looks at what the stereotype does to recruiting practices of women in the IT field. In the authors' study, they found the following to be true:
Both women and men spontaneously offered an image of computer scientists as technology-oriented, intensely focused on computers, intelligent and socially unskilled. These characteristics contrast with the female gender role, and are inconsistent with how many women see themselves.
If this study is true and if we are viewed negatively or are negatively stereotyped, what can we do to dispel that view or change opinions? A blogger at the Minnesota School of Business is attempting to do just that.
The blogger states that most stereotypes of IT professionals are no longer true and that efforts are underway to recruit more women in the IT field. This person says that improving people skills and soft skills, such as being able to talk to others without using all the IT jargon and slang, will help most.
There is hope though on the one stereotype—"the boy's club" mentality—that seems the biggest hurdle to overcome. A recent CNNMoney.com article states that tech firms are now hiring more women than men. The Bureau of Labor Statistics reported that from November 2012 to November 2013 the tech industry added 60,000 jobs—with 60 percent of those going to women.
How do you feel about the stereotypes associated with IT? Are they true? What can we do to fix this problem once and for all?
Up Next