Can We Fight Climate Change with Maps and Apps?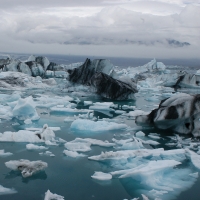 There's some debate about whether human-induced climate change is real, but there's no doubt that extreme weather is causing catastrophic damage. According to data from the National Oceanic and Atmospheric Administration's National Climatic Data Center, extreme weather events—such as tornadoes, hurricanes, flooding, drought, wildfires, and heavy snow—caused more than $110 billion in damages and claimed more than three hundred lives in the United States during 2012.
In an effort to help communities reduce the risks associated with extreme weather, the White House blog announced the Climate Data Initiative, a new section that now provides climate data within data.gov, the website portal to US government data resources. The first batch of the data is on coastal flooding and the sea level rise and is provided from the National Oceanic and Atmospheric Administration (NOAA), the National Aeronautic and Space Administration (NASA), the U.S. Geological Survey, the Department of Defense, and other federal agencies. Private mapping software companies—such as Esri and Google—are contributing resources as well.
Why is this critical? Coastal communities are becoming increasingly more vulnerable to the risk of damage and danger from coastal inundation and flooding; the effect of Hurricane Sandy on communities in the Northeast comes to mind. The government is calling on developers to leverage this data to create tools and data-driven simulations so communities can better understand the potential risks from coastal inundation and prepare.
"Inundation" is water covering normally dry land. According to the NOAA Coastal Services website, with coastal states supporting 81 percent of the US population and generating 83 percent of US gross domestic product, "inundation events are among the more frequent, costly, and deadly coastal hazards that can impact coastal communities in the U.S."
For example, tools—the so-called "maps and apps"—could help coastal businesses and communities determine if they are at risk from coastal inundation, erosion, and sea level rise and visualize the impact on their most vulnerable populations, locations, and facilities, as well as the conditions of evacuation routes.
Reporting on the United Nations weather agency's annual climate assessment prepared by the World Meteorological Organization, CBS News says:
The key message can be summed up in one word that the overall report uses more than 5,000 times: risk. "Climate change really is a challenge in managing risks," says the report's chief author, Chris Field of the Carnegie Institution of Science in California. "It's very clear that we are not prepared for the kind of events we're seeing."
The hope is that by making this climate data available, the "maps and apps" developed, although they cannot stem climate change, can help us avert some of the risks. 
Up Next