Apple's HomeKit Will Bring Smart Device Tech to Your Home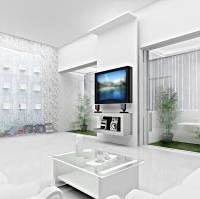 At the 2014 Worldwide Developers Conference in San Francisco, which began on June 2, Apple made several announcements about what the future will look like for the company and consumers.
Among the announcements were Apple Health, which will partner with Mayo Clinic to provide personal health and wellness tech to consumers; updates and redesigns to the iOS and Mac OSX operating systems; and a new programming language called Swift.
However, what might turn out to be the most intriguing announcement was Apple's move into the smart home industry. The initiative could cause resounding economic and capitalist ripples due to Apple's ability to possibly popularize smart home technology and the fact that the company plans on opening the smart home frontier to partnering developers.
Don't expect to buy a brand-new home from your local Apple store or leave the mall with a HomeKit. HomeKit is more of a communication standard than a product. The unified automation system will be a wireless protocol that syncs up devices and appliances in your home with your Apple mobile device or tablet.
If you're worried about security, don't be. Apple's Craig Federighi described the HomeKit as a "common network protocol with secure networking to ensure only your iPhone can open your garage door or unlock your door." Federighi also went on to explain that Siri works as part of the system, too. "You could say things like 'get ready for bed,'" and your house would automatically perform your preset functions like dimming or turning off certain lights, locking doors and windows, and even setting the thermostat to a temperature of your preference.
While the HomeKit is still in its infantile stages and more details will likely follow in the coming weeks, Gigaom reported that Apple is working with several companies pivotal to its smart home success. Apple announced signed partnerships with August, Chamberlin, Netatmo, Schlage, Withings, and several others and also acknowledged its continuing work with Texas Instruments, Broadcom, Cree, and Marvell, which have already been incorporating Apple components into their devices.
When all is said and done, the HomeKit will aim to be a centralized way to run your home. Your iPhone would act as a remote control to your house's automated appliances, and third-party home smart devices and accessories could be lassoed together by a common Apple platform.
Federighi expanded on Apple's decision to enter the smart home market: "There are great apps and devices on the market, but we thought we could bring some rationality to this."
Up Next