Apple's New ResearchKit Turns iPhones into Tools for Medical Studies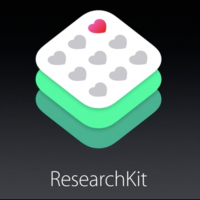 The big splash from Apple yesterday was the display of its new Apple Watch.But there was another project announced in San Francisco that holds more importance for the health care community.
The tech giant unveiled a new biomedical platform called ResearchKit, an iOS framework that will let people opt in to join medical research studies. Volunteers can use their Apple devices to participate in various tests, and the information will be shared with medical research institutions in hopes of finding cures.
ResearchKit will be an open source platform that pulls data from the Apple Watch and iPhone. It officially launches in April, but the first five applications are available today for people to participate in tests for Parkinson's disease, diabetes, cardiovascular disease, asthma, and breast cancer.
Users sign up with a digital signature and then instantly use the iPhone's hardware, like the motion sensor and voice recorder, to start contributing data. For instance, the app testing for Parkinson's is called mPower. TechCrunch explains the diagnostics:
The touch screen can feel people tapping in rhythm to detect inconsistencies that may signal a disease. The accelerometer can compare the gait and balance of someone's walk against a healthy person's speed and posture. And the microphone can notice minute fluctuations in someone's voice that may indicate Parkinson's or another health problem.
Apple's twelve launch partners for ResearchKit include the University of Oxford, Stanford Medicine, and the Michael J. Fox Foundation. Participants decide what data to share with the institutions, and Apple will not see any of the information.
The data has the potential to be more useful than the sometimes overwhelming streams of statistics being digitally communicated from the many wearable fitness devices out there. The medical partners that will be processing the results are in need of details from people who may not usually participate in studies like these.
One of the big hurdles for clinical research is finding and recruiting a good sample of test subjects. With ResearchKit being available to people far from a physical lab, it can help secure a more representative, more diverse pool of participants for these health trials. And considering that earlier in the Apple presentation CEO Tim Cook announced that the 700 millionth iPhone had recently been sold, the sample of volunteers would be much larger, too.
"I think it has the potential to really change the way research is done," Dr. Ednan Bajwa, director of the medical intensive care unit at Massachusetts General Hospital, told NBC News. "In an area where budgets are being slashed, it could really take the pressure off."
Up Next