Retail Shoppers Experience Internet of Things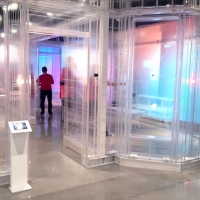 Could one of the first connected model homes located in a retail store someday become a 21st century icon that rivals San Francisco's famed tourist magnet, the row of "Painted Ladies" Victorian houses across from Alamo Square Park? Among the latest and largest companies to hop on the Internet of Things fast train, Target announced the opening of the 3,500 square-foot Target "Open House" in San Francisco's Metreon shopping center to demonstrate how everyday devices connected to the Internet can make life better for consumers. 
Target is using the new hybrid retail/demo/lab/meeting all-acrylic venue as a way to test the growing IoT trend. Said Casey Carl, Target's chief strategy and innovation officer, "From a strategic perspective, we see Internet of Things as a megatrend on the horizon. We know it's going to generate huge value." According to Target, visitors will see how connected devices actually work together—from turning off the TV if you forget when you leave the house to smart baby monitors that play music when the baby presumably wakes up fussy.
Another retailer to join the IoT trend is Sears. Retail Info Systems reports that Sears has opened a flagship Connected Solutions store in Silicon Valley to demonstrate smart household appliances for homeowners. The long-standing Sears Wish Book for holiday gifts doesn't show up in the mailbox any more, but online shoppers today can browse the Sears Connected Solutions website for smart products.
Retailers are paying attention to the IoT. The latest research from analyst firm International Data Corporation predicts that the worldwide Internet of Things market will achieve $1.7 trillion in 2020. In 2014, IDC put the IoT market at $655.8 billion. Devices, connectivity, and IT services are estimated to account for over two-thirds of the worldwide IoT market in 2020, with devices (modules/sensors) alone representing 31.8 percent of the total.
It will be interesting to see if "smart" homes made of acrylic to prototype the latest technologies do indeed have the long-lasting appeal of the Painted Ladies.
Up Next