Tips and Resources for Better Writing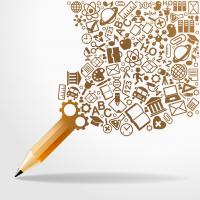 There are some things that artificial intelligence can do better than a human, but can a machine learning algorithm really take over our writing assignments?
Last summer, The Washington Post announced on its website that coverage would "leverage artificial intelligence technology to report key information from the 2016 Rio Olympics, including results of medal events" using technology developed in-house dubbed "Heliograf." It's one of the changes initiated since Amazon CEO Jeff Bezos bought the Post back in 2013.
Is a bot really better than a reporter or editor? Not always, as Facebook found out last year.
However, if you're asked to contribute to your company's e-newsletter or draft a blog post for the website or a design document, artificial intelligence probably won't do it for you at this point. And while most of us will never become truly great writers, here are a few writing tips and resources you may find helpful.
AP Stylebook. The Associated Stylebook is your BFF. Did you realize "internet" is no longer capitalized? I'm a fan of the searchable, customizable, online version, but it's also available in print.
Grammar Girl: Quick and Dirty Tips. Mignon Fogarty makes grammar funny. Seriously.
Grammarly. A free writing app that's a step above basic spelling and grammar check. It will eliminate many writing mistakes and help with emails and Facebook posts.
Google Translate does a pretty good job of overcoming language barriers and translating websites and documents.
Here are some great books on writing to have in your library: The Elements of Style by William Strunk, On Writing Well by William Zinsser, On Writing by Stephen King (yes, that Stephen King), and Bird by Bird: Some Instructions on Writing and Life by Anne Lamott.
I saved the most important for last. Write simply. This is hard. When you have to explain a topic, don't jargonize and use made-up words like "jargonize."
The real Mad Man David Ogilvy said it best when he said, "Do not address your readers as though they were gathered together in a stadium. When people read your copy, they are alone. Pretend you are writing to each of them a letter on behalf of your client."
Up Next