Why Fun at Work Matters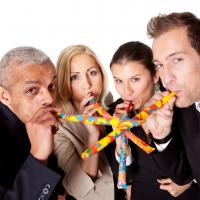 "Work-life balance" implies that work is very different from the rest of our lives. But considering we typically spend at least half of our time awake at work, it might be reassuring to know that work and fun don't need to be entirely separate.
In fact, enjoying your job—and the people there—can enhance your work experience, health, and productivity. Having fun at work through social activities such as celebrations and happy hours has even been correlated with increased learning on the job months later. The connection is attributed to higher-quality relationships with colleagues, which in turn led to a better exchange of ideas.
Interestingly, this enhanced learning had little to do with manager support for the social activities. Even though "forced fun" is not beneficial, managers still can help foster fun environments by creating opportunities to socialize. People who are more connected to their coworkers tend to be more innovative, and feeling like you are part of a team correlates with greater well-being.
Happiness, office morale, and fun at work are important enough that they should be something we consider when evaluating job opportunities, yet we often don't. Psychology professor Ayelet Fishbach explains that this isn't because people don't understand the importance of fun and engagement, but rather that we tend to underestimate how important we think these benefits will be when we're evaluating future jobs.
"Unsurprisingly, we found that promotions and raises were important for people both in their current job and in applying for future jobs," Fishbach wrote. "What was interesting, though, was that the majority cared a lot about present benefits (such as doing something interesting with people they like) in their current job, but they expected not to care very much about those things in their future jobs. When envisioning themselves in the future, they predicted that they would almost solely be driven by delayed benefits like salaries."
There are some ways to apply this natural tendency to focus on the present in order to enhance the work experience. The most direct way is to choose a project that offers current benefits. You also could try adding benefits such as music, social activities, or friendships to your working hours. And you can improve you general quality of life at work by focusing on the positive aspects of your career that you might be ignoring.
Perhaps it's also time to think in terms of work-life fusion rather than work-life balance. Just as in the rest of your life, not every moment of your workday is fun, engaging, and rewarding. But you can look for the parts of your job that are. For instance, for someone aiming for work-life balance, a trip is either for business or pleasure. For someone trying to achieve work-life fusion, a work trip could be an opportunity for sightseeing, visiting friends in the city, and trying new restaurants.
This isn't just about employee satisfaction to the detriment of other business needs. Having fun at work is also good for your health and your productivity, which in turn is good for your organization.
Up Next