Lessons from the CIA's K9 Training Program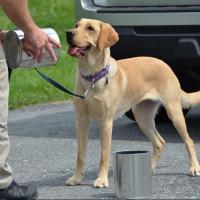 Do you want to improve your internal training programs or perhaps update your skills via e-learning or Massive Open Online Courses (MOOCs)? Then pick up some valuable clues from the CIA's K9 explosive detection training program. These K9 officers are the first line of defense against explosive threats, and what they learn during their training can literally mean the difference between life and death. The CIA's newest K9 puppy class—the first all-female class!—is currently in session, and you can follow along as Suni, Heide, Freya, Lulu, Nicole, and Indigo put in work.
Meanwhile, here are some of the CIA's top training tips that work for humans as well as canines:
Make it fun! Positive reinforcement training works best. When it looks like the dogs show even subtle signs they're catching on to detect a desired scent (such as pulling toward a can containing the black powder explosive), they're immediately rewarded. Labs are extremely food motivated (as any lab owner knows), while other dogs like the German Shepherds and Belgian Malinois really love their toys. Whether treats or prizes, the important thing is to make training a positive experience. "What you're feeling runs straight down the leash to the dog," is what the CIA trainers say. So if you're having a bad day, "leave it at the door when you enter the training room."
Don't get in a rut. Predictable behavior leads to boredom and laziness, so change up routines and introduce challenges to avoid falling into patterns that make any student get bored. If a dog always hears "sit" before a meal, give the "down" command once in a while. Keeping the dogs challenged and motivated to think through tasks is especially critical for service animals.
Yet stay consistent. Familiarization and repetition is the conduit to building on the initial concept and quickly learning new behaviors. Once a pup masters the initial concept of "seeking" a scent, training moves fast. A dog may be able to recognize a new odor in five minutes. After about approximately six weeks of training, the pups will be able to learn and detect more than 19,000 different explosive mixtures.
Take breaks. The new CIA K-9 pups work in 15-minute sessions throughout the day, with plenty of play and rest breaks. The young dogs are better able to focus after a break—so take a quick walk and then return to your lesson and see if you're more productive as well.
Always end on a positive. Mistakes happen. It's okay to stop a session early, but always end a lesson on a positive note. An easy win and the student is more likely to look forward to the next lesson.
In the Pew Research Center report "The State of American Jobs," findings indicate that 87 percent of workers believe additional training and developing new job skills throughout their career is necessary. The CIA K9 training agenda sets the bar pretty high. These CIA K9s will be retraining eight hours weekly, for the rest of their career.
Up Next