Hurricane Season 2018: Enhanced Forecasting and More Prep Time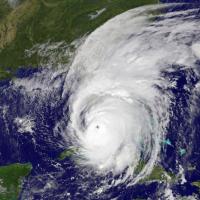 The 2017 Atlantic hurricane season saw three devastating major hurricanes (Harvey, Irma, and Maria) make landfall and had meteorologists in Miami at the National Hurricane Center (NHC) working day and night. Like any team after a release that reviews their products to see how they can improve, the NHC found ways to enhance communication to the public regarding where a tropical storm is headed and the potential impact.
The 2018 Atlantic hurricane season starts June 1, and the Pacific hurricane season starts May 15. Here are some of the 2018 forecasting changes from the National Hurricane Center.
Warnings and watches extended to 72 hours in advance of a storm—Lead time for advisories expands from the previous 48 hours, giving the public another day to prepare, and possibly even 5 days when conditions warrant.
The "cone of uncertainty" map narrows—The graphic many people associate with hurricane warnings is the forecast cone, which shows the probable track of the center of a tropical storm. It's formed by enclosing the area swept out by a set of imaginary circles placed along the forecast track (at 12, 24, 36 hours, etc.). However, as the warning notes, hazardous conditions such as wind, storm surge, rain, and surf swells can occur outside of the cone. And, storms can stray outside of the cone.
48-hour hurricane-force wind maps—To provide guidance on when the public should ideally have completed preparations before the arrival of tropical storm-force winds in a given area, the NHC Forecast/Advisory will now officially include a forecast of tropical-storm-force (34-knot) and 58-mph (50-knot) wind radii out to 72 hours and hurricane-force (64-knot) wind radii out to 48 hours. Previously, the NHC provided hurricane-force wind forecasts out to 36 hours. These maps were tested during the 2017 season and are now permanent.
Massive Supercomputer Upgrade
To make complex calculations faster, enabling improved weather models and forecast monitoring ranging from hurricanes to blizzards, the National Oceanic and Atmospheric Administration (NOAA) expanded its weather and climate supercomputing system for 2018, adding two Dell systems to NOAA's IBM and Cray computers at data centers in Reston, Virginia, and Orlando, Florida. With the ability to process 8 quadrillion calculations per second, NOAA's supercomputing system is among the 30 fastest in the world.
Is Your Disaster Plan Ready?
Potential hazards include not only floods, hurricanes, and tornadoes, but power outages, technology failures, widespread illnesses, and, unfortunately, human-caused hazards including accidents and acts of violence.
62 percent of businesses have no disaster plan in place, and 40 percent never recover after a disaster, according to FEMA. For planning preparedness for your business, visit www.ready.gov/business.
Download the FEMA app for free on the App Store and Google Play and receive alerts from the National Weather Service.
Up Next