Connected Cars Are Driving Innovation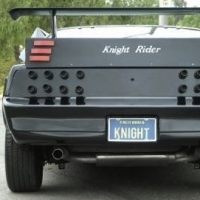 Remember "Michael, we're losing power" or "That car isn't fit to shine my bumpers"? Fans of Knight Rider, either the original 1980s TV series or any of the subsequent spin-off series and movies, probably recognize the words of KITT, the show's talking, supercharged Trans Am that was the original smart car.
In a sense, KITT was a connected car, and that's a term we're going to be hearing more of in 2013 and beyond if automakers, mobile operators, and a host of other interested parties, including the federal government, have their way.
Connected cars are equipped with Internet access and infotainment services, along with telematics and technologies that enable cars with functionality such as automatic notification of crashes, speeding, potential hazards, and a host of other features.
Sprint already has started assembling a connected car dream team and envisions its role as "an automotive infotainment and telematics systems integrator" through its new Velocity initiative. So far, Chrysler has leveraged Sprint's platform to show off the connected car concept in a Ram 1500 pickup and a SRT Viper at the 2012 Los Angeles Auto Show.
Among other recent announcements, Volvo Car Group and Ericsson will partner to provide connected car services, including infotainment, apps, and communication services in Volvo's new cars.
Volvo has been working on self-driving technology. Slash Gear reports Volvo is "developing a technology that will self-drive some of Volvo's upcoming cars in slow-moving traffic jams. By pushing a button, the car will automatically follow the car in front, as long as speeds are 30 mph and under."
However, potential safety benefits are the focus of the US Department of Transportation's connected vehicle research. To determine if connected cars are safer, the largest-ever road test with a year-long safety pilot project conducted by DOT and the University of Michigan is underway in Ann Arbor, Michigan.
Nearly three thousand cars, trucks, and buses are equipped with connected Wi-Fi technology to enable vehicles and infrastructure to talk to each other in real time to determine if the technology can help avoid crashes and improve traffic flow.
"Collision avoided." That's the message the next-generation of connected cars could potentially deliver to all of us.
What would you like to see in a connected car?
Up Next