Will You Be Putting On Google's Android Wear?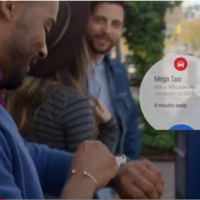 Google finally announced Android Wear, a project that extends the Android operating system to wearable technology devices beyond Google Glass. In a blog post, Google announced that the first project will be smartwatches, a tech device you wear on your wrist that does much more than tell you what time it is.
What will the Google smartwatch do? According to the Google promo video, it will provide "information that moves with you." Among the rosy scenarios, a group pulls up at a beach, and as they start to unload their surfboards, someone receives this timely notification via her Google smartwatch: "Warning! Jellyfish reported in area. Stay out of the water."
As expected, users will be able to able to monitor health and fitness and access other devices. For example:
Just say "Ok Google" to ask questions, like how many calories are in an avocado, what time your flight leaves, and the score of the game. Or say "Ok Google" to get stuff done, like calling a taxi, sending a text, making a restaurant reservation or setting an alarm.
For developers, the Android Wear Developer Preview will let you tailor your existing app notifications—with more developer resources and APIs anticipated to be coming soon.
Google is working with several consumer electronics manufacturers—including Asus, HTC, LG, Motorola, and Samsung—and chip makers Broadcom, Imagination, Intel, Mediatek, and Qualcomm. Engadget reports that the LG G Watch could possibly arrive as soon as the next quarter.
But will this be a watch that actually looks like something you wouldn't mind wearing? While Google hasn't inked any deals with Rolex or TAG Heuer, the company did announce they are working with fashion brand the Fossil Group to introduce watches powered by Android later this year.
Can smartwatches eventually compete with luxury watches? Would you wear a regular watch on one arm and a smartwatch on the other? Is it really time for wearables? Only time—and market acceptance—will tell.
Up Next