Making Time for Reflection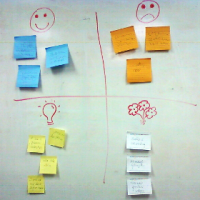 How often do you reflect on your career or life? If you are like me, it's easy to let the daily pushes and pulls distract you from reflection.
I realized about a year ago I had not reflected purposefully about my work and my life in a couple of years. I reflect on consulting, individual talks, or workshops after I deliver or lead them. But I hadn't considered this question: Was I working and living in a way that was congruent with my values?
The answer was "almost." As I often discover, I am a work in progress. I need to reflect to fine-tune my choices.
Know Where You Are Now
Explain your current state to yourself. Start with a written statement. Now, say it out loud. I don't often talk to another person at this stage, but you might choose to do so.
What is it about your current state that works for you? What's not working? You might ask consultant Norm Kerth's four retrospective questions:
What did I do well, that if I don't discuss I might forget?
What did I learn?
What should I do differently next time?
What still puzzles me?
Sometimes, these questions are difficult for me to answer. I might use the glad/sad/mad questions instead:
What makes me glad about my current state?
What makes me sad about my current state?
What makes me mad (angry) about my current state?
I've also done a career timeline to learn what I value and don't value. (See Manage Your Job Search for how a career timeline can help you learn your values.)
You can use any other retrospective technique too, as long as it helps you gather data about your work and life.
What Will You Do Next?
Having the data isn't sufficient. You need to use that data as a basis for ideas about what to do differently. I often use the Rule of Three to help me generate ideas for next steps.
The Rule of Three (from Jerry Weinberg's Becoming a Technical Leader) says one alternative is a trap. Two alternatives is a dilemma. Three alternatives help us not only see those three choices, but also create more choices.
Sometimes, I get stuck on how to help myself develop enough choices. Here are some possibilities:
If the worst thing happened, what could you do?
If the best thing happened, what could you do?
If things stayed the same, how would you feel?
In my case, I talked to the duck. I then generated five alternatives to what I could do. I'm working on implementing one of those choices as a lean-startup experiment so I can decide what to do next.
Reflecting, for me, is challenging. I would rather start something new than think about what I have done. But I realize that understanding where I've been can help inform my choices in ways I cannot foresee.
If you try this, let me know what happens.
Up Next