What's in the Spring 2016 Issue of Better Software Magazine?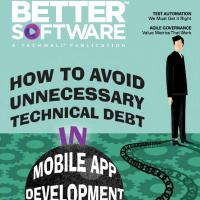 Welcome to the spring 2016 issue of Better Software magazine! This issue includes a number of articles that emphasize state-of-the-art practices in testing, metrics, and controlling technical debt on mobile software development projects.
Technical debt—the accumulation of errors in architecture, design, and poorly written code—can negatively impact even the best-laid plans for a software development project. Our cover feature article, "How to Avoid Unnecessary Technical Debt in Mobile App Development Projects," by Brian Westendorf, gives a unique perspective for recognizing and then controlling technical debt.
In the last issue of Better Software (Winter 2016), Rajini Padmanaban and Ross Smith introduced us to the merits of gamification as a key ingredient to modern-day learning management systems (LMS). In this issue, Baljeet Bilkhu's article "The Benefits of Early Performance Testing" shows us the benefits of early testing in the creation of LMS software.
If you thought you understood test automation, you'll want to read Paul Gerrard's "Test Automation: Now We Have to Get It Right." Paul does a masterful job of explaining a new model for testing that should help in test automation planning.
In his article "Value Metrics for Agile Governance," Mike Harris gives us insightful ways to apply meaningful value metrics in agile project development.
With the industry moving to millions and billions of Internet of Things devices, Johanna Rothman explores why your testing can't take an application's security and performance for granted in "Your Professional Responsibility for Security and Performance."
And those of you who test for a living will want to read Shyam Ramanathan's column, "Embracing the Top Trends in Software Testing," in which he identifies software testing's eleven top trends.
And don't forget to visit our revamped Mark Your Calendar page that summarizes all the upcoming TechWell conferences and preconference training opportunities. If you like the magazine, we'd appreciate you spreading the word via social media; you can tweet us @bettersoftware or @techwell.
We hope you enjoy this issue of Better Software!
Up Next