What's in the Summer 2016 Issue of Better Software Magazine?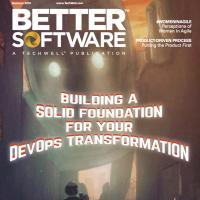 The summer issue of Better Software magazine is now live! This issue includes a number of articles that emphasize state-of-the-art practices in the IoT, DevOps, and product-driven process, in addition to highlighting the roles of QA, women, and Millennials and the benefits they can bring to your software development organization.
In our feature cover article, "Building a Solid Foundation for Your DevOps Transformation," Nicole Forsgren shows how culture influences the success of any organization's transformation to embrace DevOps—continuous automation of the development, validation, and deployment enterprise software.
As the Internet of Things become a part of every household and business, Lev Lesokhin presents some lessons learned with his insightful "Pitfalls of Developing for the IoT." Even though IoT targets tend to be small, singular-focused devices, the effort required to develop and test embedded systems is far from simple.
In the last issue of Better Software (spring 2016), Baljeet Bilkhu's article "The Benefits of Early Performance Testing" showed us the advantages of testing sooner in the creation of software products. We wanted to carry that theme forward with Matt Heusser's "Getting Test to the Strategy Table."
David Hussman's "Making the Move to Product-Driven Process" makes the case to put the customer, learning, and product front and center rather than focusing on the mechanics defined by the agile methodology used. With years of experience coaching software development teams, David says the cultural shift to build products aimed at delighting the customer is a necessity.
And speaking of culture, Natalie Warnert researched how men and women perceive female involvement in the agile community for her timely article "Recognizing #WomenInAgile." If you aren't aware of the movements promoting women in our industry—including Women in Agile, Girls Who Code, and Women Who Test—Natalie's article will enlighten you about the campaigns working to close the gender gap in the tech world.
And just when you think you've figured out Millennials in the workplace, Jason Garber summarizes the benefits that the youngest working generation brings to software development with "Cracking the Code on Millennials." All it takes is the right leadership.
And don't forget to visit our revamped Mark Your Calendar page that summarizes all the upcoming TechWell conferences and preconference training opportunities.
Let us and our authors know what you think of the articles by leaving your comments. We truly value your feedback. If you like the magazine, we'd appreciate your spreading the word via social media—tweet using @StickyMinds or @TechWell and #BetterSoftwareMagazine.
Up Next