What's in the Spring 2017 Issue of Better Software Magazine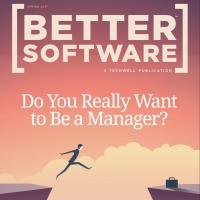 This is our second issue of Better Software magazine for 2017, and I am proud that this issue has the largest page count by far of the last several years. With some new advertisers and close to one hundred thousand subscribers worldwide, Better Software is fulfilling a real need in the software development community.
As always, this issue has some thought-provoking articles.
You may be questioning whether you should enter management, commonly known among practitioners as "the dark side." Our featured cover article, "Do You Really Want to Be a Manager?" by Ron Lichty and Mickey Mantle, summarizes the basics you should consider before stepping out of your technical contributor role.
Jason Little offers a unique view for taking a nontraditional, multiphase approach to your organization becoming agile in "Reshaping Our View of Agile Transformation." Speaking of agile, Jeremy Jarrell offers a simplified approach to risk management in "Managing Risk in an Agile World." And all you need is a spreadsheet. According to Jeremy, there is no need for complex analysis tools.
Christian Mackeprang questions how some techniques we use to predict schedules are doomed to fail in his insightful "The Impossibility of Estimating Software" article. The trick is relying on the use of more intuitive techniques for specific types of projects.
Justin Rohrman proposes in our Technically Speaking column that traditional test plan development usually is out of date by the time you start testing. His "The Reality of Test Artifacts" will certainly give you a new perspective on how to more effectively approach testing.
Finally, Eric Robertson, in our The Last Word column, believes that for DevOps to be successful, you must invest in planning for continuous integration at the start of every project. Be sure to read "2017 Is a Pivotal Year for DevOps."
To find out more about TechWell conferences and training classes, you'll also want to check out the Mark Your Calendar section on page 6.
If you like Better Software, please spread the word via social media by tweeting @techwell or following TechWell on Facebook, LinkedIn, and Google+. We appreciate your feedback and engagement!
Up Next