What's in the Summer 2017 Issue of Better Software Magazine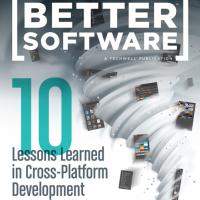 The summer issue of Better Software magazine is our largest page count over the past four years. I am proud to welcome several new advertisers and close to a hundred thousand worldwide subscribers. Better Software must be fulfilling a real need in the software development community.
It can be a challenge to develop software solutions on a variety of operating system platforms. Browser-based apps support some degree of platform independence with HTML 5, but web apps aren't usually as robust as desktop apps. Our cover story by Dewey Hou attacks this problem head-on. His article, "10 Lessons Learned in Cross-Platform Development," removes the mystery of how to create apps for both Windows and macOS.
I'm always on the lookout for articles about how to be agile in unconventional ways. We have two feature articles in this issue with that focus. Jim Schiel has a unique approach to becoming agile in "10 Things You Must Do to Become Truly Agile." And just when you think being agile has gotten stale, Paul McMahon offers a new perspective. His article, "The Power of Thinking Upside Down," takes a different stand on achieving greater team performance.
We've all had to deal with coworkers who, despite being technically brilliant, can be a challenge to work with. If you manage people, you must read Andy Kaufman's "You Get What You Tolerate." Andy should know. He has years of management experience and presents his thoughts at seminars and conferences.
And are you tired of hearing that you need to develop software faster, better, and cheaper? This is even more difficult for DevOps environments. Mike Sowers offers key words of wisdom in "Achieving Continuous Improvement and Innovation in Software."
Finally, to find out more about TechWell conferences and training classes, you'll want to check out Mark Your Calendar on page 6.
If you like Better Software, please spread the word via Twitter and Facebook. And let us and our authors know what you think of the articles by leaving your comments. We value your feedback.
Up Next