Breaking the Cycle of Bad Scrum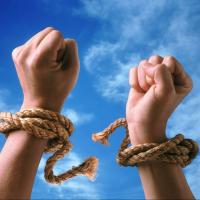 I believe in Scrum. I believe that Scrum can empower people, teams, and organizations to solve complex problems and deliver value to their customers. But bad Scrum does exist. It's oppressive.
What does bad Scrum look like? Here's an example from my early years as a ScrumMaster.
As a newly minted professional ScrumMaster, I returned to my team excited and ready to get underway. Unfortunately, I thought that I knew the best and only way to adopt Scrum. I had not fully grasped the concept of servant leadership.
For example, during a sprint planning meeting, I pressed the team to use a specific format for product backlog items. The team came up with their own format that they felt more comfortable using. But still I pressed on, even though the format for product backlog items is not prescribed by Scrum.
A development team member approached me and very respectfully disagreed with me on this and many other areas. Tension grew between us.
After a particularly stressful daily scrum, he stormed out and I was left with a team of amazed developers staring back at me, disappointed. And they were fully justified. I tracked down the team member who had left and we had an open and honest conversation.
I was still being a project manager, but that was no longer my role. I apologized to the team and they gave me another chance. We went on to execute some amazing sprints and managed to deliver value back to our customers. How did we get past it?
The developer—who rightly challenged the way I was behaving—embodied the Scrum values of courage, commitment, openness, respect, and focus. He had the courage to speak up, the commitment to the team to want to do things better, the openness to air a grievance, the respect to keep things civil, and the desire to focus the team on valuable work.
I now believe that this is how we break bad Scrum: by embracing the Scrum values and falling back on them when we are unsure about what to do next. In my case, I was focused on mechanical Scrum, not professional Scrum. I didn't respect the team enough to be capable individuals who know best how to do their work. I was not open to conflicting ideas, and I lost sight of my commitment to serve the team.
The next time your Scrum team is in conflict or you're simply unsure of what to do next, try applying the Scrum values to your situation. This is how we can all work toward preventing bad Scrum from taking hold in our teams.
Ryan Ripley is presenting the sessions Breaking Bad Scrum and Help! The Scrum Master *is* the Impediment, the tutorials Rethinking Your Retrospectives and Scrum: Answering the Tough Questions, and the Leadership Summit session Aligning Toward Business Agility–360° of Freedom at the Agile Dev East 2017 conference, November 5–10 in Orlando, FL.
Up Next