Christmas Light Show, Software Style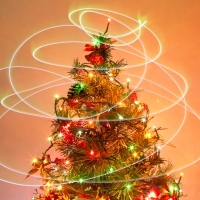 Since I live in San Francisco, I don't get much of a chance to see firsthand how advanced we have come in today's age of Christmas lights displays.
Fortunately, we live in a connected world, and in this holiday edition of our software news roundup, I'm presenting you with some of the most awe-inspiring and decadent light shows built by programmers all over the country.
To kick things off, let's head to Tulsa, Oklahoma, where software engineer Jay Perkins made an elaborate display featuring the viral song "The Fox." The Huffington Post writes that the forty-nine-year old Perkins has been making Christmas displays since 2005, and last year his display synced up to the worldwide sensation that was Gangnam Style.
Next up are the citizens of Wichita, Kansas, whose displays caught the attention of CNN. Local newspaperThe Wichita Eagle chose six Christmas light displays and made a short video that documents the glory. Curiously, there is very little Mannheim Steamroller.
Due the sheer awesomeness of seeing lights perfectly in sync with music that can be described as kinetic, CNN chose to feature the town's creations in a segment for the network's New Day program, which will air on Christmas morning.
From the Wichita Eagle:
The video accompanied a story about Wichita homeowners who spend thousands of hours and dollars putting together computer-controlled light displays on their homes that coordinate to music broadcast over personal radio stations. 
Our trip down Christmas-light-display lane ends in Casper, Wyoming, where forty-year-old Brian Wagner was profiled in his local newspaper for his holiday endeavors. The Casper Star-Tribune writes that Wagner uses up to 20,000 lights for his show and seventy-five extension cords. For some, setting up Christmas decorations is a routine; the Casper Star-Tribune says this is Wagner's passion.
From the Casper Star-Tribune:
Resting on a table near his front window is a laptop Wagner uses solely for his light shows. He programs each song by hand with software that resembles a spreadsheet. Check a box, lights turn on. Leave it empty, lights turn off. There are 32 channels of lights and each box signifies a tenth of one second. Wagner has 35 songs to choose from on his Christmas playlist.
Up Next