The Lean Startup Methodology and Its Value for Testers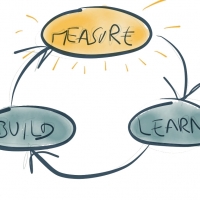 The statistics are dismal. Even though magazines, newspapers, blogs, and even movies tell stories of successful entrepreneurs, most startups fail. Research done by a senior lecturer at Harvard Business School indicates that about three-quarters of venture-backed firms in the US don't return investors' capital.
Eric Ries was an entrepreneur with a history of startup failures under his belt. He worked for a number of companies that created great products … that no one wanted. This is the number one reason startups fail. They do all the right things you learn about in business school—create business plans, perform market research, determine budgets, and design and build products—but they build products no one is interested in.
In 2011, Ries published The Lean Startup: How Today's Entrepreneurs Use Continuous Innovation to Create Radically Successful Businesses and revolutionized the way startups operate.
Ries understood that under conditions of extreme uncertainty (we don't know who the customers will be and what product or service they will actually purchase), the classical management approaches do not work. In response, he formulated the lean startup process, which has these cornerstones:
Build-Measure-Learn: This feedback loop is at the core of the model. With BML, ideas are turned into products, data about how the product is actually used by customers is gathered and analyzed, and ideas for improvement are fed back into the product development process.
Minimum viable product: Ries defines the MVP as "that version of the product that enables a full turn of the BML loop with a minimum amount of effort and the least amount of development time."
Validated learning: Ries defines this as "the process of demonstrating empirically that a team has discovered valuable truths about the present and future business prospects."
Customer development: The customer development process (identification and enrollment) should occur simultaneously with product development to create a balanced relationship between customers and product, identifying markets, customers, delivery channels, and pricing.
The One Metric That Matters: Most metrics gathered by organizations are "vanity metrics." They make us feel good, but don't really show the progress (if any) we are making toward our goal. The One Metric That Matters focuses on the single most important thing at the present state of the startup.
As testers, we are rarely part of an entrepreneurial startup team, but are there lessons for us in the lean startup approach?
First, the minimum viable product suggests that we should consider a minimal set of tests, not striving for any kind of "completeness" at the beginning. This helps us implement the Build-Measure-Learn loop, which is similar to the Test Design-Test Execution-Learning loop of exploratory testing.
As we explore, we learn about the product's quality attributes. The idea of customer development suggests that we should identify the different "customers" of our testing—developers, users, management—to determine what services they would like performed.
Finally, the One Metric That Matters replaces the dozens of vanity metrics we gather now—test cases planned, test cases implemented, test cases executed, test cases passed, and test cases failed—that don't really measure either the quality of our product or the quality of our testing.
The basic idea behind lean startup is that companies should focus their time and resources more efficiently, and this concept can benefit any team—especially testers.
Up Next