What's in the Fall 2015 Issue of Better Software Magazine?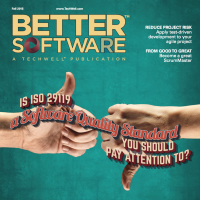 Welcome to the fall issue of Better Software magazine! For the first time, our cover features two articles.
Jon Hagar, a cocreator of the ISO 29119 quality standard, wants the software testing community to understand why this standard is so important. His article, "Software Testers Should Know about ISO 29119," steps you through the major parts of this new standard.
Unconvinced, James Christie writes about the dangers of adopting this standard in his article, "Why ISO 29119 Is a Flawed Quality Standard." After reading these articles, I bet you'll reconsider what your organization is doing to adopt quality standards.
In his article "Planning to Performance Test Your App? Think Again!" Jun Zhuang writes about the real effort to prepare for performance testing. And to continue our emphasis on quality, Erick Fleming shows how upfront testing and agility go together with "Applying Test-Driven Development to Agile."
As our industry continues to adopt agility, Zuzi Sochova put together a checklist of what she believes represents the most important ingredients for project facilitators to get right in "How to Be a Great ScrumMaster." Speaking of agility, Arlen Bankston shows us that there can be value in combining the best features of waterfall with agile in "Balancing Waterfall Predictability with Agile Flexibility."
If you aren't familiar with the term touch time, you'll want to read Matt Heusser's "How Touch Time Impacts Delivery" in our Technically Speaking column. I know I'll never look at gaps between handoffs quite the same again. Finally, Rajini Padmanaban demonstrates the merits of ensuring collaboration among multiple testing teams in "The Evolution of Testing Centers of Excellence."
Let us and our authors know what you think of the articles by leaving your comments. We truly value your feedback.
And don't forget to visit our Mark Your Calendar page that summarizes all the upcoming TechWell conferences and pre-conference training opportunities.
Up Next