Yes, She Can STEM—and More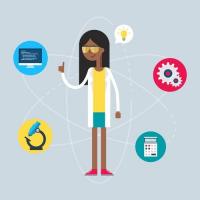 It's a statistic that's quoted again and again. Women make up approximately half of the college-educated workforce in the U.S. but only 25 percent of college-educated workers in the science, technology, engineering, and math (STEM) fields, according to a report from the U.S. Department of Commerce.
Why? According to studies, many girls begin losing interest in STEM subjects as early as middle school, and this path continues through high school and college—and ultimately affects their chosen career.
#SheCanSTEM is a new public service media campaign that hopes to encourage middle school girls to ultimately pursue STEM careers by challenging stereotypes and showcasing female STEM role models. The campaign is backed by high-profile tech brands such as GE, Google, IBM, Microsoft, and Verizon and is produced by the Ad Council. STEM careers may not be for everyone, but the program highlights female STEM role models—from astronomers to engineers to research scientists—to help keep girls interested.
Here are four STEM resources and inspiration:
Finally, here are some words of wisdom from Girls Inc. and "10 Things You Can Do To Encourage a Girl in STEM":
"Introduce her to a variety of role models – especially women – so that she does not limit her dreams" and "Teach her to replace 'I can't' with 'I'll try' or 'I don't know how – who can help me learn?'"
Up Next