DevOps Survey Details Development's Fastest Growing Trend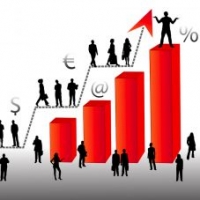 Give the top software news coverage websites credit. They're all quick to point out that Puppet Labs has an obvious commercial interest in putting out their recent 2013 State of DevOps Report, but no site I came across could deny the overall findings of the survey. DevOps is being adopted at an impressive rate across the enterprises of companies of all sizes.
Software development is no stranger to rapidly changing trends and waves, so DevOps' appearance in today's headlines isn't that eye-catching. DevOps may seem like just another link in the chain of big data, kanban, Scrum, social media, etc., but a closer look at the current buzzword shows a methodology that may be here to stay.
DevOps' claim to recent fame comes from not just benefitting one sect of software development or its other half, IT operations; DevOps is "reshaping enterprise IT." Matt Asay at ReadWriteWeb backs DevOps' potential for longevity and even wider acceptance by simply stating, "IT operations and development are better in collaboration than in competition."
InfoWorld recently reported on Puppet Labs survey and does a great job breaking down the precise areas where DevOps is excelling. The achievement that will grab most people's attention, especially software developers themselves, is:
Pinterest, Google, Amazon Web Services, and the International Securities Exchange are cranking out code 30 times faster with 50 percent fewer failures by bringing devops—IT admins with developer and IT operation skills—into their folds.
Many companies have not yet begun to incorporate DevOps into their fold, and for those that haven't, the fear of any added cost to do so needn't exist. Drawing from Puppet Labs' report, Ted Samson at Infoworld states:
You almost certainly have people with DevOps skills already working for you…You don't need to hire a DevOps team and create yet another functional silo. Instead, experiment with embedding ops and dev people on the opposite team, or creating a cross-functional team responsible for delivering a specific product or service.
While DevOps' turn on the front page will undoubtedly fade and give way to the next buzzword's turn in the spotlight, one thing is certain. Collaboration is the driving force behind them all.
Has your company begun incorporating DevOps? What benefits have you seen firsthand? Let us know in the comments section below!
Up Next