Cultivating a Great Workplace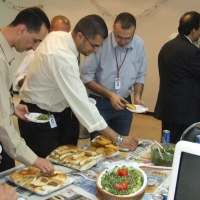 Another piece extolling the amazing benefits Silicon Valley firms offer made the rounds recently. It's easy to look askance at these kinds of fringe benefits: the more indulgent they seem, the more criticism they attract. Aren't these perks an outlandish and unnecessary expenditure, especially in this time of fiscal restraint?
The prevailing way of justifying these benefits is to paint them as a vital tool to attract and retain staff in a competitive marketplace. Especially in the tech industry, they increasingly seem like the sine qua non of recruiting top talent. Why would skilled computer geeks want to take any run-of-the-mill tech job when Google is aggressively recruiting and holding out the promise of free lunches and Segways?
If we take a step back and look at things more holistically, though, we can view these benefits as one component of building a company where people actually like to work. Again, this sounds like pie-in-the-sky thinking, but empirical research shows that workers who are happier are more productive.
Moreover, many of the changes that make work more fun have little to do with lavish giveaways and everything to do with nurturing employees' professional growth and helping them do their jobs better. Changes often aren't very expensive and sometimes may cost nothing at all.
Going beyond this kind of cost-benefit analysis, Zach Holman argues that a great workplace culture is what lets you build a great product—that your product is a byproduct of the culture that produced it.
In a parallel vein, Johanna Rothman stresses the importance of cultural fit, since great people create great products. And Brian Marick has long been stumping for ease and joy as two forgotten agile values—not merely because they make for a better way of working but because people deserve work they can find joy in.
While creature comforts that minimize distractions are more important than they're generally given credit for, no amount of perks will make up for a workplace that's fundamentally broken. If the work itself is soul-destroying or the work environment is poisonous, people will flee.
What are the most important factors that make you happy with your job? If you reflect on them, I'm sure you'll find that meaningful work and coworkers you enjoy working with will trump any number of free sandwiches.
Up Next