Microsoft Reveals New Video Demo of Windows 8.1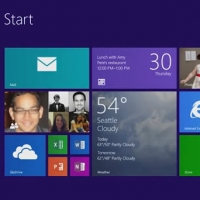 Microsoft is releasing a slew of noteworthy changes to Windows 8 in what amounts to a significant software update, once codenamed Windows Blue and now called Windows 8.1.
Thanks mostly to user feedback, this new version of Windows will be able to boot directly to the desktop, will contain modes for a touch-screen interface and for a traditional PC, and heralds the triumphant return of the Start button. But Microsoft has been coy about specifics of the Windows 8.1 update since its announcement, only releasing a handful of screenshots of the forthcoming features. That is, until now.
Today, the company released a four-and-a-half-minute video with Jensen Harris, director of program management for Windows User Experience, acting as a tour guide through some of the update's notable offerings:
The demonstration starts with a view of the lock screen, which can display a collage of photos from your PC, drive, or phone. Harris then opens the new Start screen, an array of squares that now includes larger tiles for the important features you want at a glance, such as your schedule for the day, and the option of smaller tiles so you can access more shortcuts. This home base now can be customized with a variety of background colors, photos or image wallpapers, and "motion accents" that move behind your tiles as you browse.
From there, it's a single swipe to the All Apps screen, which shows every app on your PC, sorted by the most used, recently installed, or categories. Here's where having a touch-screen device makes Windows 8.1 shine. You can tap one or more tiles in the All Apps screen and pin them to your Start screen with a simple press-and-hold then dragging motion. Apps are then easily grouped and categorized.
A revamped search is another nice feature, delivering curated results from the Internet and your PC, with the ability to launch apps from the search bar. It turns up online results across all categories at once, displaying webpage previews, giving you optional criteria for narrowing down returned images, and bringing up related links.
Windows 8.1 is powered by the cloud, and its SkyDrive gives you gigs of space for your files, with the option of keeping your apps only on your PC if you'd rather.
Harris demonstrates Windows 8.1's multitasking options, with the new ability to open apps side by side and use them simultaneously. You can adjust the size of each app's window, and larger screens can display and run up to four apps at once.
Tami Reller, chief financial and marketing officer of Microsoft's Windows Division, announced at the Computex computer show in Taipei today that Windows 8.1 would be available for PCs and tablets later this year, with a preview edition being released to all Windows 8 users on June 26.
And here's something fun: If all this Windows update talk has you feeling nostalgic (and if you've got an hour to kill), take a trip down memory lane with a video showing almost every Windows installation, starting at Windows 1.01.
Are you excited (or relieved) about news of this new update's features? Comment below about your experience with Windows!
Up Next