Are Your Kids Coding Yet? Sign Them Up for the Hour of Code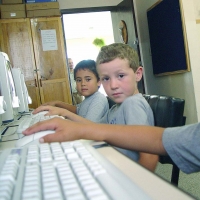 "It should be mandatory, to be a citizen on this planet, to read and write code." 
Do you know who said that? Bill Gates? Steve Wozniak? Al Gore? Guess again. It was rapper will.i.am from the Black Eyed Peas, who also said, "Great coders are today's rock stars."
To that end, Code.org is launching a program called the "Hour of Code"—a nationwide effort to introduce computer science to ten million students, coinciding with Computer Science Education Week, December 9–15, 2013. Microsoft, Google, Apple, Amazon, and more than one hundred other partners are participating in this effort to give students K–12 (and adults) the opportunity to try computer science.
And if you think most schools today already provide computers for students, here are some hard facts courtesy of code.org, Bureau of Labor Statistics, National Science Foundation, College Board, and the Association for Computing Machinery:  
9 out of 10 schools don't offer computer programming classes.
In 35 out of 50 states, computer science classes don't count toward high school graduation math or science requirements.
AP Computer Science is taught in only 5% of US high schools.
Fewer than 20% of AP Computer Science students are women. Fewer than 10% are Black/African American and Hispanic/Latino.
The video announcing Hour of Code below with Hadi Partovi, co-founder and CEO of Code.org, provides more details of the program if you'd like your child's school to participate. There will also be a self-guided online tutorial anyone can do with a web browser or smartphone.
Raising a potential red flag, Slashdot.org pointed out that "teachers won't get to preview the final lessons they're being asked to roll out to ten million US students until a week before the Dec. 9th launch of the Hour of Code." Hopefully, the actual tutorials will have no computer glitches and run better than the sample tutorial.
And if you need help convincing others about the importance of coding, here are a few more testimonials.
Twitter and Square creator and co-founder Jack Dorsey said, "I think that great programming is not all that dissimilar to great art. Once you start thinking in concepts of programming it makes you a better person...as does learning a foreign language, as does learning math, as does learning how to read."
Even the famous rapper Snoop Dogg is a fanboy: "support tha american dream n make coding available to EVERYONE!!"
So, do you know where your children are? And are they coding yet?
Up Next