Agile Testing: A Lesson in Diversity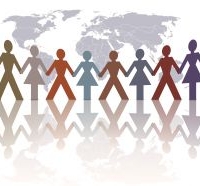 December is a time for reflections on the year gone by. My greatest lesson this year has been to embrace change and learn from differences.
I was raised in India, which gives a whole new meaning to diversity. The country contains at least fifteen major languages, several religions, and thousands of castes. Yet there is an essential collaboration of strengths where the intellect of the south and the east has blended with the business sense of the north and the west to create some of the most competent global technology services providers. This has huge parallels to my experience in the world of agile testing.
The World Quality Report 2014 recently published by Capgemini, Sogeti, and HP states that 93 percent of organizations surveyed now use agile development methods. Those interviewed said their top testing challenges are no specific agile testing approach, difficulty with test automation, and not having the proper agile testing tools available. This data made me dig deeper; based on my experience working with clients across industries, there can be significant differences in agile testing challenges.
For example, technology companies that need quick deployment of their products (often weekly) are focused on test-driven development, continuous integration, and deployment automation. Financial services are the most mature in the testing space and are evaluating ways to transition their existing large, managed test centers to the agile way of doing things. Telecom companies in particular are looking at environment optimization mechanisms for their complex integrated systems. Retailers who operate on very thin margins are focused only on the basics of finding the right test approach, automation, and areas for testing.
This figure highlights the primary agile testing needs in different industries: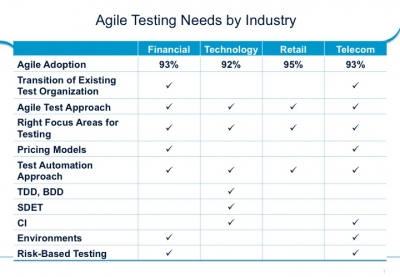 This information leads to some interesting inferences:
Agile as a discipline is gaining equal importance across all industries.
There is slow and steady innovation across all industries. Every industry is focused on building practices mapped to its business imperatives, such as matured pricing models in finance and short product deployments in technology.
We can learn a lot from diversity. What if the continuous integration (CI), test-driven development and behavior-driven development (TDD and BDD), and software development engineer tester competencies can be leveraged in the regulated world of finance? What if we deploy some of the complex pricing models in retail? What if we used more structured risk-based test techniques in the technology industry? It could lead to more efficient, reliable, and cost-effective testing.
Collaborating and learning from other industries' strengths is the way forward in the agile testing world. It pays to observe what challenges and successes other areas have and thinking about how they could apply to your field.
Up Next