Stressed? Why NIH Says Puppy Cams Are Your Best Friend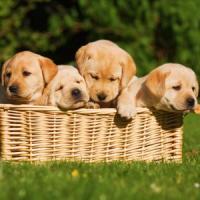 Who among us doesn't need stress reduction techniques from time to time? Especially ideas that actually work and don't cause even more anxiety because you keep forgetting to carry through with them.
The National Institutes of Health (NIH) recently channeled a puppy cam to call attention to the importance of recognizing stress in our everyday lives. Stress is how our brain and body responds to a demand, and exercise, work, school, major life changes, or traumatic events can be stressful, according to NIH. During the presentation, experts gave tips on stress reduction and mindfulness, as well as demonstrations with some amazing puppies in training to be service dogs that will someday help wounded warriors with special needs.
Sitting on the floor, surrounded by eight-week-old warm and fuzzy future service puppies, Dr. Francis Collins, director of NIH, said, "What we are learning is that interaction with pets can be a wonderful way to destress. You can even measure that; your cortisol will go down. I can feel mine plummeting right now."
Maybe not entirely, since one of the puppies was chewing on Collins's microphone while he was trying to talk. However, here are five things you should know about stress from the National Institute of Mental Health:
Stress affects everyone.
Not all stress is bad.
Long-term stress can harm your health.
There are ways to manage stress. Puppies!
If you're overwhelmed by stress, ask for help from a health professional. The National Suicide Prevention Lifeline's number is 1-800-273-TALK (8255).
As for employing new technology to combat stress, augmented and virtual reality are being studied as promising therapeutic tools.
And, social media can be helpful. From time to time, do you check in with Doug the Pug? Or Jiffpom? How about Loulou the friendly mini-dachshund?
As Collins said, "I can feel my stress levels dropping already."
Up Next