Why State-of-the-Art Technology Needs Art and Tech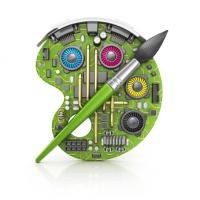 When working on today's state-of-the-art technology, don't skim over the "art."
There's a longstanding, often passionate debate about art versus design and what separates the two. Now, many advocate that technology presents yet another creative medium, and silos are being torn down as art, design, and technology are increasingly entwined.
For example, this year Christie's became the first auction house to sell a piece of artwork created by artificial intelligence. The price? The Portrait of Edmond Belamy (with an algorithm for the artist's signature) sold for $432,500. Should artists struggling to get their work represented in local galleries think about putting down their brushes and taking up coding?
In a Q&A "AI Is Design's Latest Material," Paola Antonelli, Senior Curator of Architecture & Design and founding Director of Research & Development at the Museum of Modern Art (MoMA) in New York, talks about artificial intelligence and design with Google's PAIR, or People + AI Research.
Antonelli weighs in on the use of artificial intelligence by creatives. "I see AI as a tool. When designers master that tool, they can expand their ability. That is what happened with previous tools."
What about those who build products that employ machine learning? "Engineers, although they might technically understand machine learning systems, can lack a sense of AI's impact on society. They might see AI as just coding, but they need to realize that AI is not just a technology. Rather, it is part of the world."
The Museum's evolving collection includes video games. Why? "When people ask why MoMA acquires video games, I explain that I consider code at the same level as wood, or marble, or plastic, or concrete," says Antonelli. "They are materials that designers use to reach goals that are both visual and functional."
Currently, the Atlanta High Museum is hosting the wildly popular "Yayoi Kusama: Infinity Mirrors" multi-city tour. The exhibition features paintings, sculptures, and mirrored installations created by Japanese artist Yayoi Kusama, who was born in 1929 and lives by choice in a mental hospital in Japan. To my mind, what makes the dream worlds created by Kusama extraordinary (and worth standing in the long lines) are the programmable LED environments that indeed make you feel that you're stepping into infinity.
Steve Jobs and Leonardo da Vinci were among many who recognized that art and technology embolden innovation and are fields that should be shared. "It's in Apple's DNA that technology alone is not enough," Steve Jobs famously said. "It's technology married with liberal arts, married with the humanities, that yields us the result that makes our hearts sing."
Up Next