What's Next for Virtual Reality?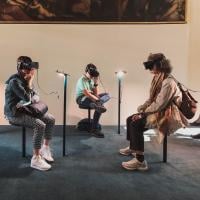 When most of us think of virtual reality, what typically comes to mind is fitting on a headset to experience a computer-generated simulation of a three-dimensional environment. For instance, NASA's virtual reality platforms employ head-mounted tools to help pilots train for potentially dangerous scenarios.
However, the talk of the recent TED 2019 conference was about a different "shared immersive reality" experience that doesn't require mounted headgear: the Holodome exhibit.
Visitors could step inside the 360-degree, twenty-foot-square Holodome dome and seemingly find themselves immersed within two of Claude Monet's impressionistic masterpieces, Poppy Field and Woman with a Parasol. Or attendees in groups of up to five at a time could travel with mountain climbers as they attempted to scale Mount Everest.
The Holodome was developed by Vulcan, a Seattle-based company founded by the late Microsoft cofounder and philanthropist Paul Allen, who had a vision of exploring alternative universes without donning mounted headgear. Allen's love of Monet's works was behind the "What if you could step into your favorite painting?" experience.
In discussing the vision of the Holodome on the Vulcan engineering blog, one of the senior software engineers says they "want people to experience a created reality unencumbered by a head mounted device, facilitating a memorable group experience. For context, the first time my son tried the Oculus DK1 back in 2013, he was four at that time, he asked, 'where are my hands?' In the Holodome, he does not have to ask that, and he is able to see me too. No need to learn something different to communicate with others in the same space and time."
Yet in spite of the hype around VR, it's estimated that only 8 percent of US broadband households own a virtual reality headset, according to a new report from industry analysts Parks Associates. It also says that among those who do have a VR headset, 54 percent use it to play video games, 44 percent watch videos, and 44 percent watch virtual tours or travel.
The overall lack of availability of quality content seems to be holding back broader adoption of VR technology. However, costs, the demand for interactivity, and limits on content length also seem to be in the way. Of those who own VR headsets, 55 percent feel that content has remained the same since they first bought their headset, and 3 percent say it has gotten worse.
It's not a stretch to speculate that the Holodome or other innovative new expressions of VR capabilities could take virtual reality and the gaming experience to a whole new level.
Up Next