Down-to-Earth Benefits from NASA's 3D-Printed Habitat Challenge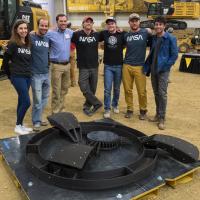 When your team is competing against others on a project bid, whether the outcome is a win or a loss, it can be a helpful exercise to examine the competition and evaluate their submissions if the opportunity presents itself. Even NASA frequently turns to crowdsourcing its projects and publicizes the competitions to spark innovative research and engage the interest of the public in its undertakings.
And now the next project is 3D printing. To advance the construction of technology needed to create sustainable housing solutions for upcoming trips to the moon, Mars, and beyond, as well as here on Earth, NASA is conducting the 3D-Printed Habitat Challenge.
Phase 1, the design competition, and Phase 2, the Structural Member Competition, have been completed. Phase 3, the On-Site Habitat Competition, focused on actually creating scaled designs and structures, and NASA contest administrators turned the challenge over to social media via Facebook, YouTube, and Livestream.
Viewers can go behind the scenes and watch as the finalists were put through three separate tests to see if their structures have "the right stuff." There was a smoke test to check each habitat's ability to hold a seal, an impact test—"simulating meteor strikes on the moon and Mars by chucking mini cannonballs at 3D-printed structures meant for deep space exploration"—and a crush test.
The competition involved thirty hours of 3D printing over four days of head-to-head competition. NASA and partner Bradley University, of Peoria, Illinois, awarded the top prize of $500,000 to New York-based AI SpaceFactory. Second place and $200,000 was awarded to Pennsylvania State University of College Park. Over the course of the competition, which launched in 2015, more than sixty teams participated, and NASA awarded more than $2 million in prize money.
NASA's Centennial Challenges program is part of the agency's Space Technology Mission Directorate and is managed at NASA's Marshall Space Flight Center in Huntsville, Alabama.
While developing technologies for living on Mars is truly exciting, there are many down-to-earth uses for these advancements, too. The ability to additively manufacture a habitat using local, indigenous materials such as dirt, clay, and sand, with or without recyclable materials, means that 3-D printing capabilities could be used to produce affordable housing where it's needed on this planet as well.
Up Next