Book Review: Tap into Mobile Application Testing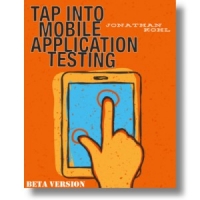 As testers, I think we tend to ignore the world of "mobile." Perhaps ignore is not the best choice of words. It's more that we have a tendency to assume that testing mobile applications can be done in the same way that we test desktop applications.
After reading this interview with Jonathan Kohl, my assumption was quickly squashed. While the concepts are similar, the landscape is far more complex, as Kohl discusses in this presentation.

How many companies do you think could afford to take a hit on a poor mobile application release? Many companies that offer mobile applications are start-ups, and none of these could withstand the bad reputation that can go viral in our modern social media environment.
With my newfound appreciation for the challenges of mobile testing, I was very excited to see that Jonathan Kohl had released the Beta version of his new book Tap Into Mobile Application Testing.
Tap Into Mobile Application Testing is a large book when compared with many other software testing publications. However, Kohl's storytelling style of writing is easy to read and keeps the reader engaged. He does a great job of stimulating test ideas and test strategy approaches, along with highlighting the extreme complexity of mobile application testing. Kohl covers many aspects of mobile technology in detail, providing readers with a solid grounding prior to launching themselves on to a mobile testing project.
I have written a full review of the book. If mobile application testing is of interest to you—and as a tester, it should be—I would strongly encourage you to read Tap Into Mobile Application Testing to learn more.
Up Next