The Growth of New Job Titles in the Tech World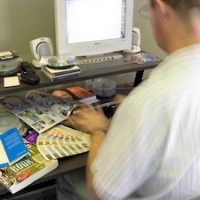 The more things change, the more they keep changing—at least in the case of new tech titles.
Some titles, of course, have been around for decades, such as project manager, business analyst, help desk/technical support, programmer, software developer, systems engineer, database administrator, and systems programmer.
These jobs are expected to continue to be in demand. (I can hear a sigh of relief among those who hold these titles.) Other titles, such as web master, storage administrator, disaster recovery specialist, and data warehouse architect are of newer vintage.
But now, we're seeing new titles that couldn't have been imagined even just a few years ago, like director of cloud transformation, data scientist, chief agile officer, and health informatics expert.
And then there's social media architect, mobile technology expert, enterprise mobile developer, and cloud architect. These emerging roles, which to some extent represent the splintering of tech functions into more granular definitions, are seen as hot new jobs in IT.
My favorite of all the new titles is augmented reality specialist. This is the person who builds apps designed to enhance how we view the world around us. Augmented reality specialists will help us not only view a street, a mall, or a landscape on our smartphone or tablet, but also get information about the things we're seeing, such as nearby hotels or stores with the best prices on particular products. If I ever go back to being a techie, this is the job I want.
Of course, no one says you can't create your own title, at least up to a point. Joanna Pineda, the CEO of an interactive web design and development company Matrix Group, gave herself the additional title of Chief Trouble Maker. I can think of several people who'd qualify for that title.
If your own title is beginning to feel a little mundane, help is at hand with The Amazing Information Technology Title Generator. Just keep clicking till you find one you like. Or make up some titles of your own and let us know what they are.
Are there any dashing new titles in your workplace? Let us know in the comments section.
Up Next